Two Belize Resorts Team up with White Sands Dive Shop to Bring the Underwater Paradise of Belize to Scuba Divers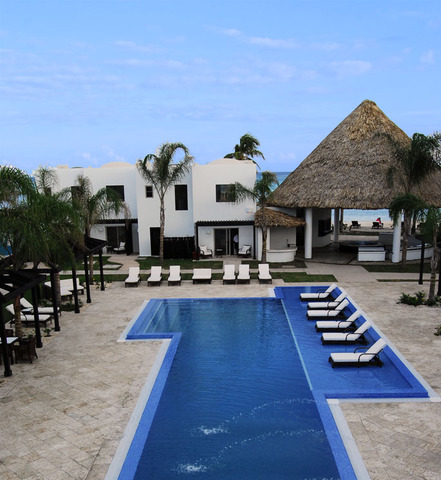 SAN PEDRO, Belize - March 5, 2009 - Las Terrazas (
http://www.lasterrazasresort.com
), Belize's premier luxury residential resort, and neighboring Journey's End Resort (
http://www.journeysendresort.com
) announce their partnership with the
White Sands Dive Shop
on the island of Ambergris Caye. This partnership will allow discerning scuba divers from all over the world to enjoy top-notch accommodations and world-class scuba diving off of the largest barrier reef in the Western hemisphere.
The White Sands Dive Shop is a full service PADI dive center specializing in daily diving, SCUBA instruction and snorkeling for the island of Ambergris Caye, Belize. White Sands is a PADI International Resort Association member and is licensed by The Belize Tourism Board.
"We are excited for the opportunity to enter into a mutually beneficial partnership with Journey's End Resort and the newest of the
luxury Belize resorts
, Las Terrazas", said Elbert Greer, PADI Staff Instructor and owner of the White Sands Dive Shop. "By merging our services with the solid reputations that these resorts have achieved in Belize as premier dive resort destinations we feel we will be able to offer divers an unparalleled experience", added Elbert Greer.
Since Jacques Cousteau popularized the sport in the 1970s, scuba diving has been steadily increasing in numbers. With the recent 'Planet Earth' phenomenon, the public surge to explore the ocean floor has reached an all time high. As a result the interest to explore the underwater mysteries of the Caribbean off the coast of Belize and around its many cayes (islands) has been drawing bigger crowds year after year.
"Tourists aren't just looking for sandy beaches and cocktails anymore, they're expressing a genuine interest in finding out about the local dive sites, equipment rentals and dive boat availability," says Ovel Leonardo of Journey's End Resort in Belize.
Perhaps one reason why
scuba diving in Belize
is experiencing such a boom is that the natural wonders in its coastal waters were enough to attract even the great Jacques Cousteau in his televised explorations. The country of Belize boasts the second largest barrier reef in the world – second only to that of Australia, and is host to over 300 species of fish and 65 species of coral. Belize also provides drivers an opportunity to explore the world's most famous blue hole – known somewhat uncreatively as the Great Blue Hole. The Great Blue Hole presents divers with a unique stalactite filled underwater sinkhole stretching 400 feet down, is a World Heritage Site, and is thought to have been first formed thousands of years ago as a limestone cave system where the roof eventually collapsed as the rising sea levels engulfed the system of caves.
With 347 miles of reef to choose from and vacations lasting only a week at best – making sure you dive the best sites is essential. Locals claim the country's largest island – Ambergris Caye – offers the best of the underwater world. Home to 40 popular dive sites stretching over 20 miles of reef, the aquatically interested tourists should plan to make the island of Ambergris Caye their base.
According to Elbert Greer of White Sands Dive Shop, it's not just the Cousteau's of the world who are excited to strap on a tank, "We now offer courses from beginner to expert, guided tours, everything – people of all skill levels are coming down here to dive. And flights to Belize from the United States are just as accessible as many of the popular and more well traveled Mexico destinations."
So while the ancient ruins and rain forest trails of Belize still appeal to world travelers who are not aquatically inclined, the undersea interest in the coastal waters that team with exotic fish within an intricate system of coral reefs is showing no signs of slowing. If you want a truly unique and unforgettable dive experience book a Belize vacation with Las Terrazas or Journey's End Resort and let the experienced dive-masters of White Sands Dive Shop show you the underwater wonders of Belize.
About Journey's End Resort:
A welcome escape to rustic luxury and a barefoot family adventure, Journey's End Resort (
www.journeysendresort.com
) is an oceanfront getaway on the island of Ambergris Caye, Belize. Journey's End has an assortment of comfortable accommodations to choose from including beachfront cabanas and a 3-bedroom beachfront villa. Journey's End Resort offers an onsite restuarant, spa, pool and scuba diving facility all within easy reach. The resort also offers many options for guided fishing, scuba, or adventure tours.
For reservations, visit our Web site or call toll-free 1-800-460-5665.
About Las Terrazas Resort and Residences
Las Terrazas (
www.lasterrazasresort.com
), a five-star luxury oceanfront resort and residential development on the island of Ambergris Caye in Belize consists of 38 one- to three-bedroom oceanfront town houses that are sold fully furnished and rented as hotel rooms when owners are away. The residences / guest townhouses include balconies, some with plunge pools, as well as custom mahogany furniture, roomy kitchens with granite countertops and stainless steel appliances, and large plasma TVs. There is a private beach, a 70-foot-long infinity pool and a fitness center, and diving trips can be arranged. Las Terrazas truly is the natural way of life. Las Terrazas has recently gained membership in the exclusive "Preferred Hotels and Resorts" program as a Boutique Resort.
For reservations, visit our Web site or call toll-free 1-800-447-1553