BuddyTV brings Fantasy TV to Reality TV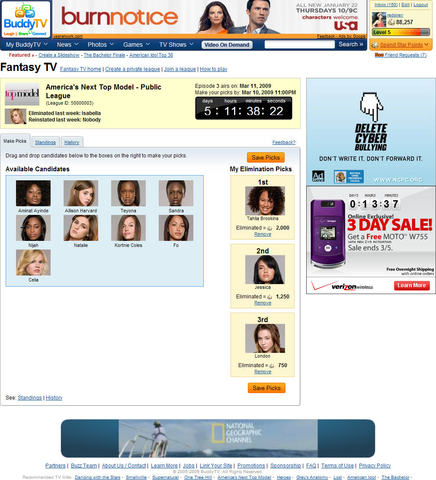 March 6th, 2009 - Seattle, WA - As fantasy baseball, football, and basketball has blossomed with websites online to track picks, leaders and results, fans of American Idol or America's Next Top Model have had to settle for gathering around the water cooler with the low tech paper and pencil to determine who was best at predicting eliminations and winners. Now, BuddyTV.com has launched an online Fantasy TV League for fans to compete against each other in a public setting or with their friends in a private league. Similar to Fantasy sports, participants watch the shows, research their picks, and make their selection before the show airs. BuddyTV Fantasy TV Leagues does the rest and makes the competition fierce and fun.
Andy Liu, CEO of BuddyTV, points out that this is a feature that was often requested by his friends and family along with users of BuddyTV.com. BuddyTV's writers are equally as excited, senior writer and American Idol League head, Oscar Dahl says, "I've heard enough from my readers and fellow writers that I'm not a great judge of talent, I'm hoping to prove once and for all that I'm not only good, but I should be a judge on the show based on how well I will do on BuddyTV Fantasy TV."
Effective immediately, the American Idol, Survivor, The Amazing Race, America's Next Top Model, Hell's Kitchen, Rock of Love, Make Me a Supermodel, and Dancing with the Stars leagues are ready for users to join. Participants can join theses public league or create their own private league and invite friends and family starting at
http://www.buddytv.com/ftv
. One person ready to jump in is Jeremy Schoemaker of Shoemoney.com fame who says, "I've been following American Idol for years and I've been playing Fantasy TV on paper here in the office. This is going to be huge for me and my friends. I'm totally pumped for BuddyTV's Fantasy TV and showing the world how good I am at identifying talent and rubbing it into my friends' noses"
Mr. Liu thinks, "as more and more people stay at home to save money during the current economic downturn, Fantasy TV Leagues will be a great and fun outlet from all the bad news" Liu continues, "We are thrilled to implement the rollout of BuddyTV Fantasy TV. For the first time, fans of reality television will be able to gather and compete on a massive scale against each other. This will be a perfect complement to fantasy baseball or football."
About BuddyTV:
BuddyTV is the largest independently held TV Community Site reaching over 6,000,000 unique visitors on a monthly basis and nearly 90,000,000 pageviews. Founded in October 2005, BuddyTV provides full-length streaming videos, editorial, interviews, games, community, and forums on over 500 television shows. BuddyTV's investors include Madrona Venture Group, Gemstar-TVGuide, and Charles River Ventures. Visit BuddyTV.com to laugh, share, and connect with friends on your favorite TV shows.