Weather Trends International's February 2009 Retail Sales & Weather Summary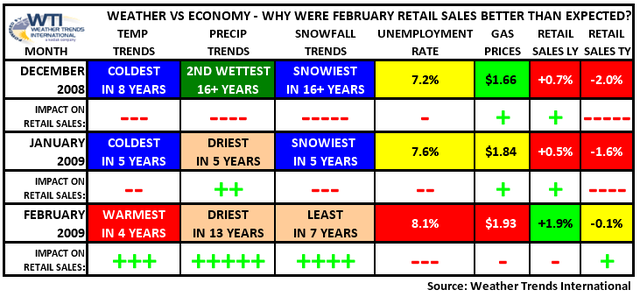 Bethlehem, PA (March 9, 2009)- Despite the worst economic environment since the Great Depression, retail industry February 2009 same-store sales were on the high side of expectations (-0.1% vs expectations of -1% to -2%) due in large part to very favorable weather according to Weather Trends International. Wal-Mart and Kohl's among others exceeded expectations but Wal-Mart again lead the industry by dramatically exceeding their own guidnce with a +5.1% same-store sales gain, best since June last year.
There was some discussion amongst economist that lower gasoline prices helped the industry, but an analysis reveals that is not the reason for the stronger gains. Gasoline prices have steadily risen by $0.27 gallon from December to February so that certainly didn't help boost disposable income as some economists noted. Unemployment went from 7.2% in December to 8.1% in February so that didn't help retailers either. So what was difference from the earlier Winter months when retail sales were the worst in decades to the better February? The answer was MUCH BETTER WEATHER!
In December we had a slew of negatives for retailers with the coldest conditions in 8 years, 2nd wettest in 16+ years and snowiest in 20+ years with the snowiest week prior to Christmas in over 100 years resulting in the worst retail sales ever despite easy comparisons to a year ago. Yet unemployment was lower than February and gas prices were much lower than February so it was all about the weather creating the PERFECT STORM for the abysmal industry results, -2%.
Then came January which had a few more positives but cold and snow were still extreme and despite even worse unemployment figures and even higher gas prices, retail sales were not as bad December and higher than expected at -1.6%.
Then there was February - worsening unemployment, worst stock market plunge since the Depression, $0.27 gallon higher gas prices than December and very tough same-store sales comparisons to a year ago yet the industry comes in much higher than expected at -0.1% Why? Becuase consumers felt a bit of Spring in the air with 1,581 new record high temperatures making it the warmest February in 4 years, with the least snow in 7 years and the driest in 13 years. These were all very favorable trends for higher store traffic and higher retail sales. Ignore the weather - get surprised! WTI's year-ahead February forecast called for the warmest and least snowy February in 4 years resulting in higher than expected sale gains.
About Weather Trends International: The global leader of actionable year-ahead business weather guidance for retailers, manufacturers, pharmaceutical companies, agricultural firms, financial analysts and now the movie industry! Clients include some of the world's most respected and successful companies like Wal-Mart, ASDA, Target, Kohl's, Sherwin Williams, Anheuser-Busch, Johnson & Johnson, 3M, Pizza Hut, JP Morgan, Bloomberg, The State Theatre and 100 others. Its business centric weather solutions and understanding of how consumers respond to the weather is used throughout organizations to help "manage the weather risk". Utilizing technology first developed in the early 1990s, Weather Trends International's unique statistical math based trade secret formula forecasting methodology projects temperature, precipitation and snowfall trends by day and week a year-ahead for 4,000 cities in 129 countries with an industry leading 80%+ accuracy. Offices in New York, NY, Bethlehem, PA and Bentonville, AR.
Email Weather Trends International