TCExam 9 helps fighting economic crisis by cutting educational costs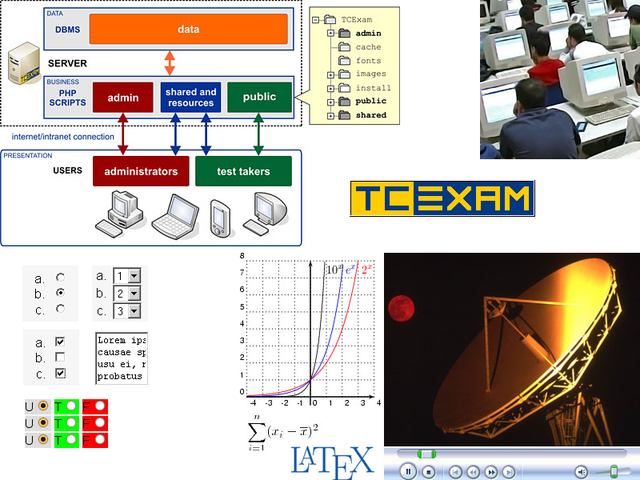 The Tecnick.com company is pleased to announce the release of version 9 of its Free Open-Source Web-Based Assessment Software TCExam.
TCExam refers to a very popular Computer-Based Assessment (CBA) software system (also know as CBT - Computer-Based Testing or e-exam) which is used to replace the written format test systems which are conducted in traditional educational institutions, and helps the trainers or online tutors to design their assignments and deliver them in the form of surveys, exams, tests and quizzes.
From big Universities to small schools, no one is escaping the financial crisis engulfing the world economy. Managers are being forced to look for innovative, cost-effective solutions which deliver quality results within budget. TCExam helps fighting the economic crisis by cutting the assessment-related costs while improving the quality of educational process.
TCExam is Free and Open Source, Web-Based, Platform Independent, Language Independent (includes support for Right-To-Left languages) and conforms to W3C Accessibility and Usability guidelines to provide equal opportunity to people with disabilities, including blind users. It can be installed on almost any server or Web-host without any form of alteration, it's easy to use and do not require expensive hardware to run, nor additional commercial software. Moreover, since TCExam is an open source software, it is possible for users to add further translations and features to it in order to increase its efficiency in terms of functioning. For test-takers, all TCExam requires is a computer or PDA with a Web-browser (i.e. Mozilla Firefox or Internet Explorer) and a network connection.
The economic crisis is causing a growing number of organisations to consider TCExam as an alternative assessment system and move away from traditional methods or propriety software for monetary reasons. But once they discover the some of the less known advantages of TCExam, many of them will stay with it even when the economy turns around. Translated in 22 languages, TCExam has been downloaded more than 50,000 times and has been ranked 150 over 200,000 Open-Source projects hosted at SourceForge.
The general advantages of TCExam over traditional Pen-and-Paper Testing (PPT) includes: increased delivery, administration and scoring efficiency; reduced costs for many elements of the testing lifecycle; improved test security resulting from electronic transmission and encryption; consistency and reliability; faster and more controlled test revision process with shorter response time; faster decision-making as the result of immediate scoring and reporting; unbiased test administration and scoring; fewer response entry and recognition errors; fewer comprehension errors caused by the testing process; improved translation and localization with universal availability of content; new advanced and flexible item types; increased candidate acceptance and satisfaction; evolutionary step toward future testing methodologies.
More information can be obtained by visiting
http://www.tcexam.org
About Tecnick.com:
Based in Italy, Tecnick.com (
http://www.tecnick.com
) is a Software Company in the business of providing open source software applications and components, consulting and support services. Tecnick.com is particularly committed to the developing of better platform-independent and accessible Web software solutions. Some Tecnick.com software libraries are currently integrated into popular web applications used by millions of people worldwide.