Pez Hotel in Mexico Feels Pinch of Recession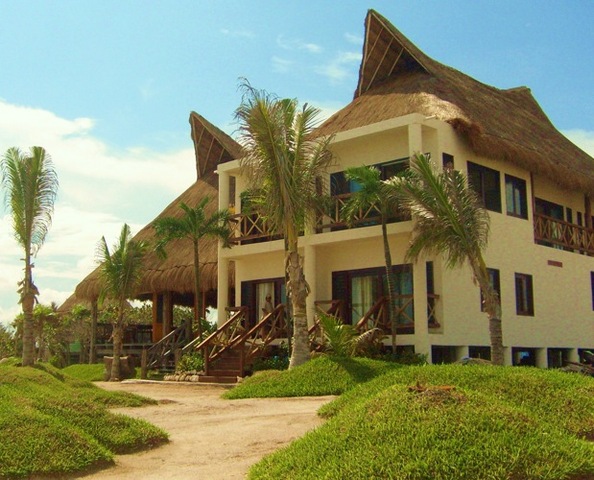 (Tulum, MEXICO) One of Mexico's breadwinners in tourism, its Mayan Riviera, may not be as crowded this high season as it has in the past due to the global credit crunch. However, to local tourism businesses such as Pez Ocean Palace, this season's empty beaches may just offer a new tempting allure of their own.
Take the case of Tulum, an eco-getaway located about an hour and a half south of famous Cancun, whose normally crowded white sand beaches and turquoise waters will lay quiet this Summer. Tour operators project widespread availability in adventure trips, theme parks and major attractions will see few if any lines. And of course an almost impossible prize to come by in Tulum, ocean front cabanas and hotel rooms at discounted prices. In Tulum, the recession has created a new market for vacation-goers looking to beat the crowds.
"We just decided to escape for a couple days," say Mike and Suzanne Stout, a married couple from New York State who, feeling the effects of a terrible economy at home, decided to hole up in one of La Zebra Tulum's beachfront bungalows for an extra-long weekend. "We came to Tulum years ago and loved its tranquility and calm. Since that first visit, Tulum has exploded with tourists. But we figured the current downtime would afford us the original kind of peaceful scene."
And it has. Sipping homemade watermelon margaritas on the picturesque sun deck at La Zebra beach hotel, the couple was among the only few tourists visible on Tulum's famous stretch of sand: a stretch that last year was packed to the brim with vacationers.
Peace and quiet may indeed fit the ideal tropical getaway, but on the less optimistic front, Tulum's tourism appears to be down around 15%, with a once-blooming real estate market now dormant, and restaurant and bar sales down more than 20%. Such low numbers have Tulum's businesses looking for new marketing tactics.
"Hotel bookings in Tulum are down about 20% from the same period in 2008," cited Laura Avila, General Manager at Mezzanine, a boutique hotel on Tulum's popular strip. A cyclical downturn was expected in most global tourism destinations, but only a handful like Tulum have taken the necessary actions to curb this contraction. "In response, many hotels, like us, have started to offer incentives to guests."
Pez, a new Tulum hotel just opened in January 2009, is finding that walk-ins are still strong. "Even though internet bookings have drifted down since January," says Anja Miran, manager at Pez, "we are blessed with a beautiful hotel in a prominent beach location so we get a lot of walk-ins."
While some experts report that all industries will fall victim to the economic crisis, others believe certain niche markets, like tourism, to be much more adaptive. "The consumption of travel and tourism is very resilient," reports Jean-Claude Baumgartern, President of the World Travel & Tourism Council. "People might delay buying a new car or a new home during the crisis, but they usually delay less going on vacation."
Whether tropical hotspots like Tulum are able to endure the economic storm is yet to be seen, with the travel industry still gaging the appropriate actions to quell its current downtime. But according to Mike and Suzanne Stout, private sunset walks on Tulum's renowned jungle-fronted beaches don't appear to disappoint anytime soon.
Email Pez Ocean Palace, Tulum, Mexico