Traders' Library and Toni Hansen Release New Trading DVD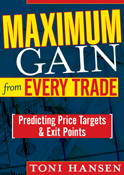 Traders' Library announces the release of expert analyst Toni Hansen's new DVD course,
Maximum Gain from Every Trade: Predicting Price Targets and Exit Points
, through publisher Marketplace Books. Hansen's method for leveraging price action, momentum, and support and resistance is presented so that it can be utilized by anyone. Designing indicators to be simple and without compromising effectiveness, Hansen has eliminated the headache of complicated formulas. Her ability and reputation for nailing price targets and keeping big gains with pinpoint exit strategies is what makes this course a trading necessity.
With the economy in "shambles," as Warren Buffet puts it, and the Dow dipping below 7,000, Hansen's new course can help you learn to keep your gains, even under today's harsh economic conditions. Her trading style and market analysis excel in any time frame, with any market vehicle. You'll learn how to spot breakout trades without the stress of traditional indicators. More specifically, her method teaches you to identify accurate price targets and grab the bulk of the profit in all trends, eliminate losses by determining a trend's reversal points, and adjust stops to stay in trades for overall maximum gain, among many other techniques.
This 90-minute presentation also reveals Hansen's five-step "Building Blocks" system that allows traders to gain a full understanding of pace and basic patterns that earn you money. Hansen's trading tactics can make anyone a professional trader in no time, from already active investors to retirees, stay-at-home parents, or those who want to hone their market skills.
Toni Hansen is a full-time trader and parent who has been actively trading for the last 10 years. She is a well-known speaker on behalf of Townsend Analytics and the Chicago Board of Trade, a columnist on The Hard Right Edge, a contributor to Stocks, Futures and Options Magazine, and one of the most respected technical analysts in the industry. She also co-authored the book Online Trading. She has a high reputation for being accurate in bull and bear markets, and her style of trading is attractive to investors and traders of stocks, options, futures, ETFs, and FOREX markets.
Toni Hansen's
Maximum Gain from Every Trade: Predicting Price Targets and Exit Points
DVD, among other trading and financial tools, is available at Traders' Library.
About Traders' Library and Marketplace Books: Based in Glenelg, Maryland, Marketplace Books has been serving the needs of investors, financial advisors, and professional traders since 1995, often partnering with key industry players in the investment world. Traders' Library is the preferred online bookstore for Marketplace Books products.