New Trading DVD Released by Traders' Library and John Carter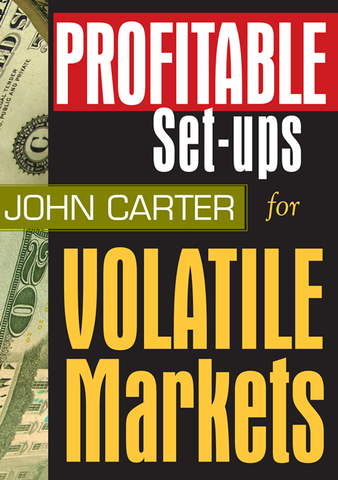 Trader's Library announces the release of John Carter's new DVD course
Profitable Set-ups for Volatile Markets
through publisher Marketplace Books. Carter is a commodity trading advisor with TradetheMarkets.com and the author of bestselling book Mastering the Trade. In this new course, Carter uses various indicators that provide proven exit strategies. He'll guide traders through set-ups that he uses in his own trading and show you how to identify the big moves, so that maximum profits can be gained.
While investors wait patiently for more aid from the government, financial stocks have risen slightly. All the major indexes rose more than 2% last week. With the erratic movements in today's markets, it is vital to continue your trading education, and the set-ups in Carter's new course will help you to develop the skills needed to profit. Although these methods are beneficial in all trades, they are essential in futures trading. This course offers advice on market psychology as well as the techniques on profiting in volatile markets.
Capitalizing on his years of experience, Carter provides real-world examples of heikin-ashi bars and candlestick patterns to identify exits in volatile markets, accumulating positions in quiet markets for maximizing on moves, how to interpret Bollinger bands and Keltner channels and the relationship between them, why Fibonnacci extensions are powerful for predicting new highs and lows, and how to use the RSI to find trendbreaks and exponential moving averages to set up retracements. This course will show traders how to identify and interpret indicators and big moves, so you'll be ready for the opportunities presented.
John Carter began to pursue full-time professional trading in 1996. Today, he is a Commodity Trading Advisor with Razor Trading and manages a futures and Forex trading fund. His book, Mastering the Trade, quickly became a bestseller after it was released in January 2006. Carter was recently featured on ABC Money with his new online trading book.
John Carter's new DVD course,
Profitable Set-ups for Volatile Markets
, as well as his other publications are available at the lowest prices at Traders' Library.
About Trader's Library and Marketplace Books: Based in Glenelg, Maryland, Marketplace Books has been serving the needs of investors, financial advisors, and professional traders since 1995, often partnering with key industry players in the investment world. Traders' Library is the preferred online bookstore for Marketplace Books products.