SURFACE SOLUTIONS GROUP WEBSITE PROMOTES BENEFITS OF PRECISION MEDICAL DEVICE COATING APPLICATION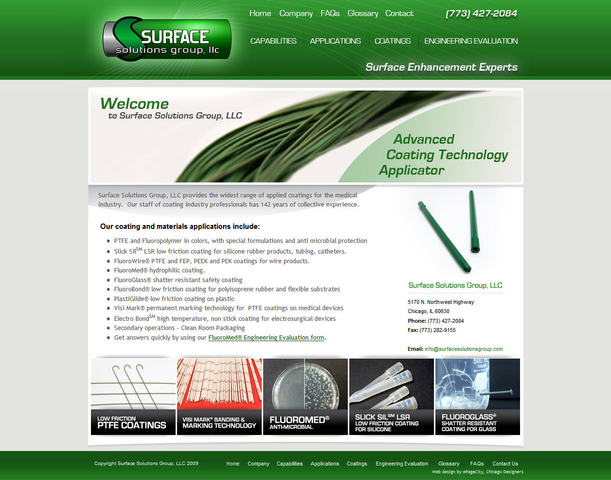 CHICAGO, IL, March 16, 2009 – Applicator of specialty coatings for the medical industry, Surface Solutions Group launched a new website to inform research and development groups, product engineers, designers, and purchasers for medical device companies about the advantages of precision coating application and new coating technology including Visi Mark(sm), Slick Sil(sm), ElectroBond(sm) and other coating technologies.
Designed by local Chicago web designers, ePageCity, Inc., the new website includes descriptions of Surface Solutions' capabilities as well as Case Studies that highlight real world applications of their medical coating technologies. Website users can browse through a knowledge base of frequently asked questions, research unfamiliar terms in an online glossary, and submit an Engineering Evaluation for an assessment of any custom project.
About Surface Solutions Group, LLC
With over 142 years of collective experience, the Surface Solutions Group team of chemists, engineers, technicians, and executives provides the widest range of applied coatings for the medical industry. Patented and patent-pending technologies including coated endoscopic blade coatings, antimicrobial coatings and several precision coating application technologies attest to the expertise applied to the variety of projects that Surface Solution Group undertakes. Featuring a completely new "green facility" designed and constructed featuring seamless, antimicrobial floors, walls and ceilings and ultra filtered air, Surface Solutions Group utilizes the latest in building technology, with the lowest possible carbon footprint. Visit
www.surfacesolutionsgroup.com
for more info.
About ePageCity, Inc.
ePageCity is Chicago's leading website design and development firm. Founded in 1999, ePageCity serves the small to medium-sized business and not-for-profit markets with custom and affordable website design services and easy-to-use content management solutions. Over 400 businesses and organizations throughout Chicago and the nation choose ePageCity for their website needs. Visit
www.epagecity.com
for more info.
Email Surface Solutions Group, LLC