Back to Nature With Eurocamp UK Camping Escapes - weekend breaks from £100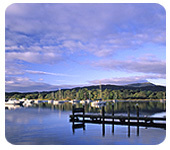 Unique outdoor experiences – such as sleeping on the lapping shores of Lake Windermere or Loch Lomond, or under the verdant canopy of the New Forest – are now available to everyone following the launch of Eurocamp UK Escapes on nine of the most beautiful campsites in England, Scotland and Wales.
By offering a selection of pre-erected, fully equipped tent accommodation - prepared prior to arrival with beds, bed linen, a kitchen area with 4-burner hob along with crockery and utensils - it's never been easier to enjoy a hassle-free camping holiday amongst the most stunning natural surroundings.
The introduction of
Eurocamp UK Escapes
builds on the operator's impressive 36-year European heritage – but this time it takes you back to nature with a truly authentic outdoors camping holiday. Ideal for short breaks, there are nine campsites across the UK, which means that there's a Eurocamp UK Escapes campsite within a short drive for everyone.
Through partnerships with leading conservation charity The National Trust and Forest Holidays - operating entirely within the Forestry Commission Estate - Eurocamp is now present on nine
UK camp sites
in Scotland, North Yorkshire, the Lake District, Wales, the Forest of Dean and the New Forest.
Each site provides the perfect antidote for the hustle and bustle of everyday life by unearthing simple pleasures like waking up to birdsong in the open air.They are also the perfect base from which to explore the stunning natural surroundings - whether that's on foot or bicycle – whist enjoying a whole manner of outdoor activities, from hill walking to fishing, even bird watching or canoeing.
And for those wanting to experience nature in its simplest form and get the very most out this unique experience, Forest Rangers are at hand at all seven Forestry Commission campsites, to share their knowledge on survival skills like safe fire making, animal tracking and shelter building.
Eurocamp's Chris Hilton said: "More people than ever are interspersing holidays abroad with short breaks and weekends away in the UK that are a convenient drive from home. Escaping everyday routine – simply by spending quality time with friends and family – has never been considered so valuable.
"We're rediscovering the emotional benefits of the outdoors, wildlife and natural surroundings – membership of groups like the National Trust and RSPB has risen significantly in recent years – and, as we do, the demand for domestic breaks will be further fuelled."
For the utmost convenience, each comfortable, high quality Eurocamp six-berth tent includes a large living area and three separate sleeping compartments, with beds, pillows and blankets. The self-catering accommodation also comes complete with a 4-burner hob, utensils, cutlery, wind-up lanterns and even a cool box for those picturesque picnics. This really is
UK camping
at its best.
To enjoy al fresco living to the full, each tent also comes with an outdoor table, chairs and a charcoal barbecue. And whilst providing the most authentic camping experience, each campsite conveniently has an onsite shop and good-quality toilet and shower facilities, so escaping the complications of modern life doesn't have to mean compromising on those all-important simple comforts.
The National Trust camp sites are:
Low Wray camp site, Lake District
Great Langdale camp site, Lake District
The Forestry Commission camp sites are:
Christchurch camp site, Forest of Dean
Holmsley camp site, New Forest
Roundhill camp site, New Forest
Cobleland camp site, Scotland
Cashel camp site, Scotland
Spiers House camp site, North Yorkshire
Beddgelert camp site, Snowdonia
Take a 3 night weekend break from Friday 17th April, staying at the Great Langdale campsite in the Lake District for just £100.
Enjoy a 4 night mid-week break from Monday 29th May, staying at the Spiers House campsite in North Yorkshire for just £130.
A 7 night stay from Friday 12th June at the Roundhill campsite in the New Forest, costs just £240.
For further information or to book, please visit
www.eurocamp.co.uk
or call 0844 406 0552
Email Eurocamp Camping Holidays