Ecotour Company Sends Small-group Polar Bear Tours Deep into Churchill Bear Country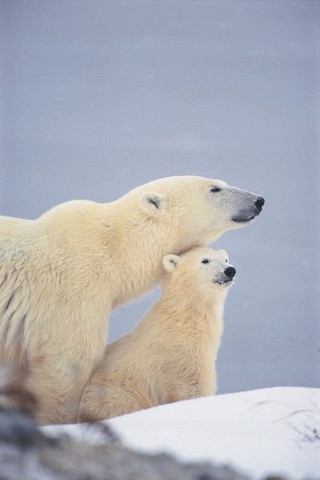 Boulder, Colorado – March 25,2009 – Each year, polar bears gather in Churchill, Manitoba on the shores of Hudson Bay awaiting the formation of sea ice so they can head out to hunt seal, creating a best-in-the-world opportunity for polar bear tours in the bears' wild habitat. Award-winning ecotour company Natural Habitat Adventures (
http://www.nathab.com
) sends small-group travelers into Churchill polar bear country, using local guides and its partnership with World Wildlife Fund for a particularly up-close and authentic look at the bears as well as the complex issues facing this world's largest land predator and its fragile ecosystem.
An active partner in the Churchill, Manitoba community for many years, Natural Habitat Adventures gives back to Churchill with economic initiatives, conservation education and sustainable practices including hiring locals guides, drivers, artisans and entertainers, encouraging local attendance at free guide presentations, and implementing an innovative Bulbs for Bears program that replaced incandescent bulbs with CFLs throughout Churchill and provided the town with a bulb recycler for proper disposal (
http://tinyurl.com/8oyhy7
).
"Supporting local economies is a crucial piece of the ecotourism equation, helping to provide often small and struggling communities with the incentive and education necessary to be a positive force for conservation," says Natural Habitat Adventures founder and director Ben Bressler.
Natural Habitat Adventures' sustainable Churchill polar bear tours include the chance to see some 50 – 100 bears a day, as well as arctic fox, caribou, the northern lights, and more. Six- to eight-day polar bear expeditions are offered on four separate itineraries with 2009 departure dates ranging from October 11 – November 16. Rates start from $4,595 per person, double occupancy, for the six-day "Classic Polar Bear Expedition"; the seven-day "Tundra Lodge Adventure" includes accommodations on a veritable polar-express "rolling hotel" parked in the heart of bear habitat. Group size is limited, and all trips arrive and depart from Winnipeg, Manitoba. Detailed itineraries on the adventures are available at
www.nathab.com/north
.
A member of Adventure Collection and exclusive Conservation Travel Provider to World Wildlife Fund, Natural Habitat Adventures' recent awards include a 2009 Best Adventure Travel Company ranking from National Geographic Adventure and a 2008 World's Best Tour Operator rating from Travel + Leisure. All Natural Habitat Adventures trips are carbon neutral. For information, visit
www.nathab.com
.
Media Contacts: Matt Kareus, Natural Habitat Adventures, 303.449.3711,
mattk@nathab.com
; Darla Worden, WordenGroup Strategic Public Relations, 307.734.5335,
darla@wordenpr.com
Email WordenGroup Public Relations