The Karcher Group to Present Search Engine Marketing Seminar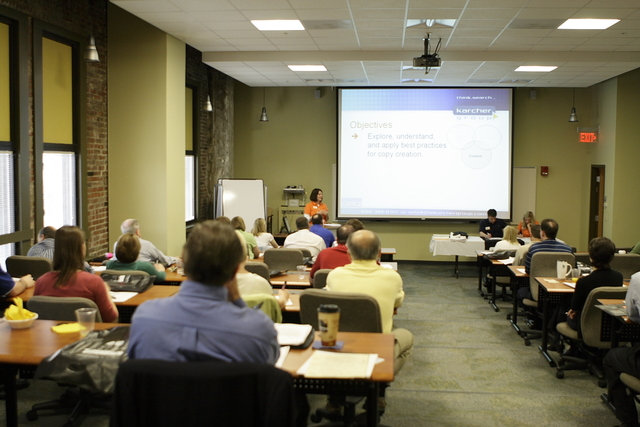 (NORTH CANTON, Ohio-April 1, 2009) The Karcher Group (TKG), a North Canton, Ohio-based Web marketing and development firm, is holding its next "Search Made Simple" seminar and workshop on May 1, 2009, at the Business Technology Center (1275 Kinnear Rd. Columbus, OH 43212). This will be TKG's 7th time to host a seminar in the Columbus area.
Attendees can register for the seminar (9:00 AM-2:00 PM), intensive workshop (2:00 PM-4:00 PM), or seminar and workshop together for a discounted rate.
Since 2003, TKG has helped over 500 businesses and organizations through the Search Made Simple seminar series.
"Excellent! Very pragmatic and real world tips and ideas that I can use now," said one attendee.
"Session topics and presentations were well thought-out; everyone was interested and engaged with what each speaker discussed," said another.
This seminar is highlighted by special guest speaker Jake Baillie, Managing Director of STN Labs and former president of the search engine TrueLocal.com. He will dispense advice for optimizing dynamic site content and join Geoff Karcher, president of TKG, for a panel discussion on social media, mobile search, and online public relations.
The Karcher Group's SEO team will also present on search engine marketing topics such as Copywriting, Link Building, Technical SEO Issues, Social Media, and Local/Mobile Search Strategies.
An optional two hour workshop will follow the SEO seminar during which The Karcher Group's SEO staff will review attendees' Web sites and offer one-on-one consulting.
The registration fee is $149 for the seminar and $149 for the workshop; those attending both the seminar and workshop will receive a discounted rate of $249.
Availability is limited. For more information or to register for this event visit
http://www.seoseminars.org
or contact Collyn Floyd at 800.310.0317. Registration is also open for TKG's seminar on May 29, 2009 in Akron, OH.
About The Karcher Group: Founded in 1997, The Karcher Group provides Web design services, programming and e-commerce solutions, as well as nationally-recognized search engine marketing strategies. The Karcher Group is located in North Canton, Ohio.