i-Sight Presents Proven Tips at Customer Profitability, Loyalty and Retention Meeting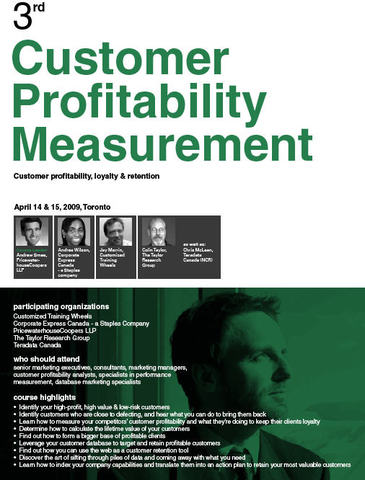 Ottawa, Canada – April 1, 2009 - CEC (
www.customerexpressions.com
) announced today that it's President, Ray Gerard, will be presenting at the third annual Customer Profitability, Loyalty and Retention Conference in Toronto on April 14th and 15th.
The conference will provide an opportunity for members of the customer care community to gather and exchange ideas, best practices and to learn about new products being offered to enhance customer loyalty. Ray Gerard, said "We believe in the power of customer retention to transform a business. We've seen our customers dramatically increase profitability by making customer concerns a priority and we're happy to have the opportunity to share those experiences."
CEC provides the i-Sight Customer Complaint Software, a web based application that provides flexible workflow to ensure customer complaints are handled effectively. The solution includes a world class reporting suite with dashboards and a custom report writer to ensure companies are able to learn from customer interactions.
Here are some highlights from the conference agenda:
- Identify your high-profit, high value & low-risk customers.
- Identify customers who are close to defecting, and hear what you can do to bring them back.
- Learn how to measure your competitors' customer profitability.
- Determine how to calculate the lifetime value of your customers.
- Find out how to form a bigger base of profitable clients.
- Leverage your customer database to target and retain profitable customers.
- Find out how you can use the web as a customer retention tool.
About CEC
Based in Ottawa, Canada, CEC (
www.customerexpressions.com
) is a leading provider of web-based insurance customer service and complaint handling solutions. Customer Expressions has gained an international reputation for best-in-class software to optimize the management of various business processes. The privately held firm provides i-Sight, integrated case management software for investigations, call tracking, customer service, complaint handling, corrective and preventive action management (CAPA Management), and other business processes that require case management.
For further information, please contact:
Joe Gerard, Vice-President, Sales & Marketing
800-465-6089 or
media@customerexpressions.com
Email Customer Expressions