Charlotte Marriott City Center near Charlotte Convention Center Completes Hotel Room Renovations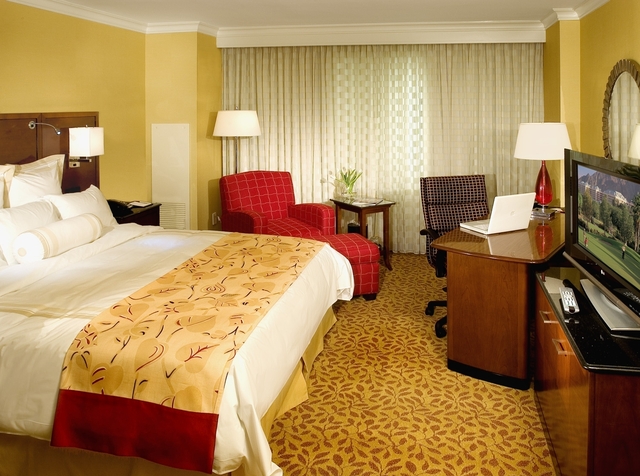 CHARLOTTE, NC – April 04, 2009 – The
Charlotte Marriott City Center
, a hotel near the Charlotte Convention Center, has announced the completion of a $10 million renovation project highlighted by a complete renovation of its 438 guestrooms and guestroom hallways.
This Charlotte Marriott hotel renovation has transformed each
guestroom
into state-of-the-art personal comfort zones featuring the very latest in timeless luxury and thoroughly modern conveniences.
Hotel guests will open their doors to a soothing earth tone palate of colors welcoming them toward the room's luxurious centerpiece, Marriott's new Revive bed. Featuring the latest in comfort technology, the Revive Bed features 300 thread-count linens, fluffier pillows, down comforters and thicker mattresses that provide all the comforts of home.
Each renovated room features a 37-inch flat screen television offering 63 channels (many in brilliant high-definition). Guests can enjoy their own personal playlists with iHome radios that offer iPod connectivity, and surf the internet using a new high-speed internet that offers both wired and wireless service. Each room's bathroom has undergone a renovation of their own, including new bathroom vanities, floors and lighting.
The hotel room renovation project adds to the already impressive profile of the widely acclaimed Marriott property. Located in the heart of Charlotte's business and entertainment districts, the Charlotte Marriott City Center is easily accessible to the Charlotte Convention Center, Bank of America Stadium and the Charlotte Bobcats Arena.
"We are so excited to share the results of this extraordinary makeover with our guests," said Assistant General Manager Gary Oikemus. "The renovations add a new dimension of comfort and style to a hotel that is already a favorite of business and leisure travelers alike thanks to our stellar service, convenient location, outstanding and diverse array of restaurant offerings and more."
The Charlotte Marriott City Center, a Charlotte Convention Center hotel, has been a favorite of meeting, wedding and event planners, as it features 20,000 square-feet of meeting space and a Grand Ballroom that can seat up to 1,200 guests. "With this renovation now complete, we offer planners an unbeatable combination of comfort and convenience along with a team of meeting professionals who are well-trained in the art of exceeding expectations for groups of all sizes."
The hotel renovation also adds another layer to a property that puts a premium on taste in the form of
three outstanding restaurants
. For those looking to take southern dining, there is Savannah Red. The restaurant proudly shows off its Old South roots while adding a refreshing twist of New South sassiness – in its décor and menu selections alike!
Cutter's cigar bar is pure Carolina sophistication, highlighted by a cozy fireplace and a billiards room. The atmosphere, along with its comprehensive list of premium cigars and extensive drink menu (featuring everything from rare port to single malt scotch), makes Cutter's a hit with business types, tourists and locals. A limited menu is available along with occasional wine tasting and cigar sampling events.
Sporting types regularly enjoy the good cheer of Champions Sports Bar & Restaurant, Charlotte's only non-smoking sports bar. Champions features a state-of-the-art entertainment system that includes more than 45 flat-screen TV's and a wide range of beer choices.
For more information on or to make your reservations at Charlotte City Center Marriott, visit us online at
www.marriottcitycenter.com
or call us at 1-800-928-9290.
Email Charlotte Marriott City Center