TRENTON Introduces AdvancedMC® (AMC) Processor Card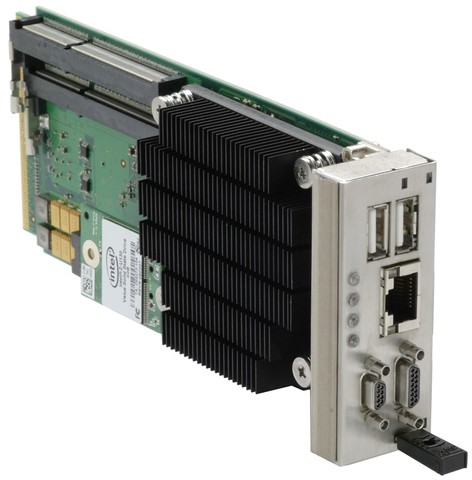 Atlanta, GA – The Trenton MCP6792 is a new AMC processor card designed for use in a MicroTCA® chassis or an AdvancedTCA® carrier card's AMC slot. The card's industry standard AMC form factor is also useful in stand-alone custom system designs and the MCP6792 is available in two front panel versions: single-width/full-size and single-width/mid-size. Trenton's innovative AMC card design includes configurable PCI Express® links and dual 1000Base-BX Ethernet interfaces to the card's edge connector. These links enable MicroTCA chassis designs that can include PCI Express and Gigabit Ethernet fabric interfaces on a system backplane. Other card features include two plug-in DDR3 SO-DIMM sockets, an optional on-board data storage capability via plug-in solid-state drive (SSD) devices, dual SATA II 300 interfaces and a built-in Trusted Platform Module to support Trusted Computing application requirements.
The dual-core Intel® Core™2 Duo Processor SL9400 is featured on the Trenton MCP6892 AMC. Other processor options include the Intel® Core™2 Duo Processor SP9300 and Intel® Core™2 Duo Processor SU9300. These processors are produced using a 45nm manufacturing process and offer key features such as a 1066MHz front side bus and up to 6MB of L2 cache. Pairing these latest Intel® processors with the Intel® GS45 Express Chipset and the Intel® ICH9M I/O Controller Hub produces an AMC with an impressive feature set to tackle today's demanding computing applications.
"Trenton's MCP6792 is the first of several AMC form-factor products from us designed to support the emerging MicroTCA market", said Bill Bowling, Trenton V-P and General Manager. "Our customers can now implement these new system designs with confidence knowing that Trenton's long-standing reputation for quality, stability and longevity will be there to support them both today and far into the future."
"MicroTCA system designers can now utilize the industry-leading performance-per-watt capability of the Intel® Core™2 Duo Processor SP9300 and the Intel® GS45 Express Chipset in both mid-size and full-size AMCs from Trenton," said Joe Jensen, general manager of Intel's Embedded Computing Division. "Intel's leading-edge processing and thermal efficiency capabilities combined with our 7-year long lifecycle support for embedded enables innovative MicroTCA system solutions to drive the industry forward."
Other MCP6792 Features
Front panel AMC I/O on the single-width/full-size versions of the Trenton MCP6792 includes: dual USB 2.0 ports, one 10/100/1000Base-T Ethernet interface, one COMM and one video port. Diagnostic LEDs, Hot Swap, Power and System Health LEDs are also included.
An on-board storage option is available via a dedicated board header for plug-in USB solid state drives. Storage densities vary for USB SSDs; the maximum density available is typically 8GB.
System memory capacity on the MCP6792 is 4GB. The dual channel, DDR3-1066 memory interfaces supports two SO-DIMM sockets that support PC3-6400 or PC3-8500 SO-DIMMs.
The AMC's Module Management Controller or MMC supports Intelligent Platform Management Interface (IPMI) functionality. The MMC is an FPGA that is factory programmed to support various IPMI commands, manage sensor input and signal levels along a system's IPMB and to drive the status LEDs on the front panel of the MCP6792. Hot Swap is a typical IPMI status function and event supported on the AMC.
The x4 PCI Express link routed to the AMC's edge card connector is configurable via a user accessible dipswitch. For example, in addition to the x1PCIe link routed to the AMC's edge connector an additional x4 PCIe link is provided to a MicroTCA backplane and this link can be configured to function as a single x4 or four individual x1 PCI Express links thereby maximizing uTCA system flexibility.
Dual 1000Base-BX Ethernet interfaces routed to the edge card connector of the Trenton MCP6792 AMC are designed to provide robust Ethernet fabric support in MicroTCA and AdvancedTCA system applications.
Pricing and Availability
The MCP6792 is available now. A small quantity discount price of $1,737 includes a dual-core Intel® Core™2 Duo Processor SP9300, passive heat sink and full-size front panel. Other pricing discounts as well as additional processor and front panel options are available. Contact Trenton for the latest information on all pricing discounts as well as volume and OEM purchase programs.
About Trenton Technology
Trenton is a specialized designer and manufacturer of AMCs, industrial computer systems, system host boards, single board computers and backplanes for critical embedded computing applications such as telephony, imaging, instrumentation, control and others that require performance, precision and reliability. Trenton is an Associate Member of the Intel® Embedded and Communications Alliance, a community of embedded developers and solution providers.
Trenton offers AMC, PCI Express, PCI-X/PCI/ISA and CompactPCI® board- and system-level industrial computer products manufactured in ISO 9001:2000 certified USA facilities to various industry standards such as CE, CSA and UL. Trenton's focus is on exceeding our customer's, expectations for features, performance, vendor reliability and manufacturing quality. All Trenton Technology PICMG 1.3 and PICMG AMC.0 products are backed by a full five-year warranty and Trenton's engineer oriented technical support.
For more information about our MCP6792 advanced mezzanine card, or any other Trenton product, call (800) 875-6031 or (770) 287-3100. You can also visit our website at
www.TrentonTechnology.com
or e-mail us at
MCP6792@TrentonTechnology.com
.
Intel and Core 2 Duo are trademarks of Intel Corporation in the United States and other countries.
PCI Express is a registered trademark of the PCI-SIG.
PICMG, MicroTCA, AdvancedTCA, uTCA, ATCA and AdvancedMC are trademarks or registered trademarks of the PCI Industrial Computer Manufacturers Group.
All other product names are trademarks of their respective owners.