Zacuto locks and loads its four new Gunstock Shooters just in time for the NAB show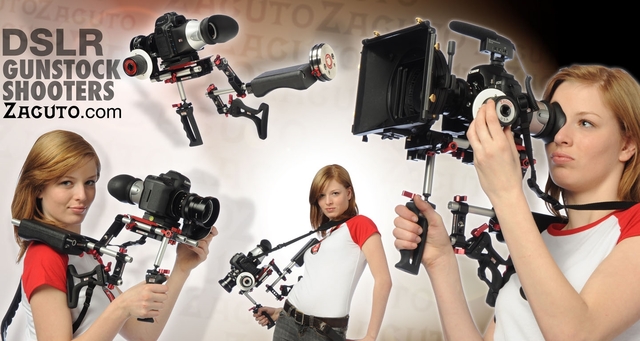 Chicago, IL - APRIL 11, 2009 - Zacuto's DSLR Gunstock Shooters are locked, loaded, and ready to fire! After six months of using DSLR's, Zacuto has made the next evolutionary leap by changing the way DSLR cameras will be used from this point forward. These Shooters are universal for all cameras, quick-releasable, extremely lightweight and great for run'n gun type shooting, as well as indie filmmaking. They also create the correct form factor for filmmaking by utilizing Zacuto's Optical Viewfinder (Z-Finder) for precision focus.
Shooter Bullet Points:
- Zacuto offers four DSLR Gunstock Shooters: the Sharp Shooter, Marksmen, Sniper and Precision Shooter. The Sharp Shooter is our entry-level Gunstock Shooter. The Marksmen adds the Gunstock, the Sniper adds the Z-Focus and lens gears, and the Precision Shooter gives users the ability to mount and power an on-board monitor.
- They are extremely lightweight, ranging from 6.5 Ibs to 7.5 Ibs.
- Extremely adjustable to anyone's eye and shoulder heights.
- The Gunstock Shooters offer four or five points of contact (depending on model) for improved stability.
- The Z-Finder offers 3x focusable magnification, an eyecup preventing extraneous light leakage, and is custom-fit for 76mm diag. LCD screens.
- All Shooters use our height adjustable Mini Baseplate and the Manfrotto quick release plate. For users not interested in quick-releasing, the optional Z-Spacer is the way to go. It not only raises the camera, but moves it forward so the lens mount is over the rods allowing for more rod real-estate.
- Basic features on all Shooters include the Zgrip Z-Mount, Shoulder Pad, Z-Finder Optical Viewfinder, Strap and mounting risers.
All kits are light and easy to handle, which is critical for smooth movement and less user fatigue in both tripod and handheld use. The Gunstock Shooters come equipped with a shoulder strap for comfortable all day carrying, allowing users to go from ready position to shooting position within seconds. This also enables users to effortlessly move from tripod to handheld without a cut or interruption. The Shooters can be used with any 15mm lightweight accessories, follow focuses & matte boxes. They can also be used with or without an optional 3.4 Ibs. counterbalance, the Z-Lite weight.
Zacuto kits give you all the components you need for your camera package right out of the box and at a discounted price verses buying the components ala carte, which is also an option.
For a detailed analysis and in-depth visual demonstration of Zacuto's DSLR Gunstock Shooters, check out new video at
http://www.vimeo.com/4044623
To see kits:
http://store.zacuto.com/DSLR-Gunstock-Shooter-Kits/
To see pictures:
http://zacutodslr.com
Steve Weiss Filmmaking Blog:
http://zacuto.blogspot.com/
View Zacuto videos here:
http://zacutovideo.com
View Zacuto images here:
http://zacutoimages.com
View Zacuto camera packages here:
http://zacutocamera.com
About Zacuto:
Located in Chicago's River North neighborhood, ZACUTO, originally a production equipment rental house formed in 2000 by a former Director and DP Steve Weiss and Jens Bogehegn, whose combined film/video experience of over 50 years, quickly expanded into a producer of high end production equipment with the creation of their revolutionary line of ZACUTO USA brand products. Designed primarily for indie filmmakers, Zacuto is your local one-stop-shop for customized camera packages and components shipped anywhere in the world. Zacuto USA brand products are entirely designed and manufactured by Zacuto, made in the USA, and come with a Life Time Warranty. For more information visit
www.zacuto.com
or
www.store.zacuto.com