iMovee Introduces New Product, CinePlus – go Wireless #A state-of-the-art wireless device combined with LCOS micro display and Media player#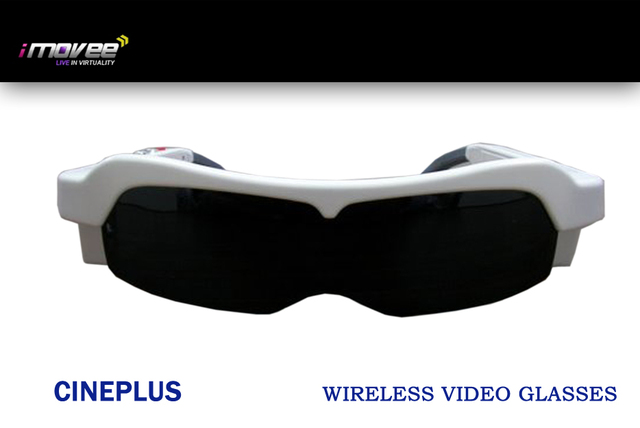 New York, NY, 14, April, 2009 – iMovee Cineplus is the newest addition to the iMovee range of video eyewear. Cineplus lets you enjoy videos on a virtual cinema screen of 72 inches through a pair of glasses, totally wireless. Cineplus features a state-of- the-art inbuilt media player (Texas Instruments Soln.) and card reader along with hi-fi audio to give the real cinema experience. It comes with an ultra thin infra-red remote control which makes it totally wireless, hands free, mobile and private.
According to iMovee Director, International Sales, Maxel Rapheal, this high end stylish device will be available globally before this summer through various consumer electronics chains in USA, Europe, Middle East and Brazil. He said "Cineplus is going to revolutionize the global Mobile TV industry as this will change the way Mobile TV services are being delivered and being used by the consumer until now". This high end device can be connected to Mobile TV receivers of all global standards such as DVB T/H, CMMB, ATSC M/H, DMB, ISDB T and Mediaflo, to give the actual Mobile TV experience on the go".
Cineplus launch will be soon followed by the launch of 'Touch Telly' series, a well anticipated Mobile TV product of iMovee Corporation in the Mobile TV industry. The fully loaded version of Cineplus - Go Wireless comes with a pair of noise reduction ear buds, an ultra thin IR remote control, two rechargeable lithium ion batteries, video conversion software CD, an Ipod/Iphone dock cable and a RCA cable, all at an unbelievable price of $ 399.95.
This fantasy glasses features a sleek, light weight design with LCoS micro display, which delivers crisp, vivid-color, WQVGA video images on a virtual 72" display from a distance of 2.5 Meters. You just have to insert a mini SD card into the slot, and entertain yourself with your favorite movie, YouTube videos, games, MP3 music, photos, or e-book text.
Product Features
- The sleek ergonomically designed glasses are comfortable, light weight and highly portable with extreme privacy.
- The LCoS WQVGA resolution micro display delivers a crystal crisp vivid-color image enhancing your Video experience on the go.
- Simulates a viewing experience of a 72" virtual large screen at a distance of 2.5 Meters, ideal for watching movies, viewing photos, listening to music, playing games etc.
- CinePlus can be connected to any AV devices such as iPod, iPhone, DVD players, Mobile Phones and portable Mobile TV devices delivering the ultimate Mobile TV experience.
- CinePlus allows you to enjoy your JPEG photos using an automatic or slide function mode and supports e-book .TXT file, allowing you to enjoy reading your favorite books anywhere, anytime.
- A pair of noise reduction ear phones gives you a Hi-Fi theatrical audio experience.
- Built-in Media Player with Mini SD card slot which plays MP4/MPG/AVI/ASF 【MPEG1/2/4 (Divx3.x/4.x/5.x & XviD) 】, play effect:640*480@30 frame/s.
- User-friendly U/I backlit control, for using controls even in dark environments and a USB interface which allows easy loading of digital files to the device.
About iMovee
iMovee Corporation is a leading manufacturer of Mobile TV devices and Personal Entertainment Systems. iMovee is the primary Technology & device partner for S2M group, an ARAB SAT company which is the pioneer in providing Mobile TV services in the MENA region. iMovee is also a voting member of ATSC standards organization in USA to set the ATSC M/H standard for Mobile TV deployment in North America. Other global Mobile TV implementations include CMMB (China), DMB (Korea, parts of Europe), ISDB T ( Japan, Brazil), DVB T/H (Europe, South East Asia).
iMovee's Mobile TV product portfolio includes Video Glasses/Eyewear, Personal Media Player, Navigation devices, USB/Bluetooth/Wi-Fi dongles integrated with Mobile TV receivers. We have cutting edge and innovative Mobile TV devices which are customized for MNOs, and other Mobile TV service providers with EPG (Electronic Service Guide), Interactive software, Video on Demand and Conditional Access systems.
Public Relations Contact
Susan Black
Director, Public Relations
iMovee Corporation
Ph: +1 415 251 6146
susan.black@i-movee.com
www.i-movee.com