10 Great Places to Spot Monkeys at Play from IgoUgo.com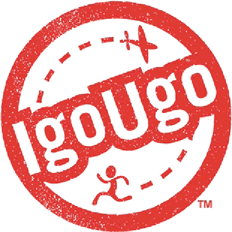 NEW YORK –
IgoUgo.com
's content manager, Michelle Doucette, recently noticed that reviews from IgoUgo.com members who have crossed paths with monkeys during their travels rave about the experience. Guided by the many hundreds of monkey photos and reviews provided by the savvy IgoUgo.com members, Doucette picked the
best places to spot monkeys at play
. A visit to these 10 exotic locations will virtually guarantee travelers an encounter with the photogenic primates.
Agra, India
"No visit to northern India is complete without a visit to Agra." Come for the Taj Mahal, but don't overlook the primates that populate the area when touring the majestic building known all over the world. Agra officials may seek to ban monkeys from their city, but what traveler can resist those little faces "begging for food?"
Amazon Region, Ecuador
In the Amazon region of Ecuador, three days are "barely enough" to catch a glimpse of the plethora of wildlife, including the squirrel monkeys that "launch themselves" between trees. The "honey-brown and white" rascals move fast, but a good camera will capture this "exhilarating" experience.
Bali, Indonesia
Travelers visit Bali for its beautiful beaches, gentle people, and lush mountainsides. Once they're on this Indonesian island, however, it quickly becomes apparent that monkeys must appreciate all Bali offers too. It's no wonder, as "monkeys are regarded as sacred" on this beautiful island paradise.
Boracay Island, Philippines
There's "plenty to see and do on Boracay Island" in the Philippines, and as locals attest, there are plenty of "bars, restaurants, and activities to enjoy." Besides sailing, horseback riding, and the beach, there's the chance to spot monkeys in a natural habitat.
Guanacaste, Costa Rica
On a trip to Guanacaste, Costa Rica, visitors to Monkey Park, a "rescue park for injured animals," could interact with the baby monkeys who are "so sweet." Travelers looking for adventure should take a zip line tour, but don't forget the camera because "the Howler monkeys are everywhere."
Monkey Island, Panama
White-faced Capuchins are easy to spot on a tour of Monkey Island in Gatun Lake, part of the Panama Canal. From the boat to the island pay close attention as the monkeys' little white faces "pop out of the trees, staring with curiosity."
Mount Misen, Japan
Take a "cable car to the summit" of Monkey Park and be "greeted by red-faced monkeys huddled together for warmth." Keep in mind that while "cameras are allowed," feeding the monkeys is "forbidden."
Rio de Janeiro, Brazil
Rio de Janeiro, Brazil, is perhaps better known for its beautiful people than its beautiful primates, but there are "lots of them" on Sugarloaf Mountain (also known as Pão de Açúcar), one of Rio's top attractions. Don't get too caught up in the monkeys' antics though; the main reason visitors flock to this "must-see attraction" is the "incredible view of Rio below."
Sarawak, Malaysia
Keep an eye out for the "rare and unusual Proboscis monkey" in Bako National Park in Sarawak, Malaysia. Be camera ready, as their potbellies and pendulous noses are "comical."
Victoria Falls, Zimbabwe
When in Victoria Falls National Park in Zimbabwe, "ignore all the guide book advice" and get soaked by the "spray and the roar of the thunderous torrent." While taking in the falls' majesty, check out the wildlife that includes "mobs of Vervet monkeys."
About IgoUgo
IgoUgo
® is the fastest growing online travel community in the world. Its more than 500,000 members-world-seasoned and passionate travelers-share firsthand travel experiences, advice, and more than 330,000 photos to date, with candid tips and inspiring stories covering more than 8,000 global destinations. Site users can search by keyword to find reviews by like-minded travelers, as well as destination guides and helpful links. Members can easily contact one another to ask questions, exchange information, and build friendships without geographic bounds. IgoUgo has garnered top industry honors, including being named one of Forbes' "Best Travel Sites" in 2006, a Webby Award for "Best Travel Site in the U.S.," a "Top Travel Site" ranking from USA Today, and "Best Travel Community" and "Top Travel Site" commendations from Yahoo Internet Life.
Contact Information
Kate Sutherland
Vollmer Public Relations
212-715-2222
Contact Us
Email Vollmer Public Relations