Garden irrigation company Waterwell Ltd invests in the best people during the recession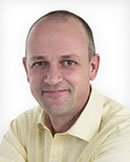 Waterwell are pleased to announce that Chris Newcombe-Bond has been appointed to the role of Operations Manager at Waterwell. Chris (26) who hails from Durban, SA, joined Waterwell in November and has quickly made a positive impact upon the business. Chris has a solid background in garden irrigation and landscaping, having run his own business before coming to the UK. With his experience, judgement and sense of humour, Chris is ideally suited to the crucial role of Operations Manager in which he will take responsibility for all the commercial activity at Waterwell. Chris spends his down time enjoying mountain biking and socialising and will surely be an asset to the business.
Waterwell is also in the process of improving and investing in its entire staff. Every member of staff has been individually assessed and a personalised career training plan has been devised for each of them. Staff are then provided with a structured learning program that culminates in NVQ qualifications. This investment has been made to encourage each member of staff to develop their existing skills and take on new learning challenges that will help them throughout their careers.
You can find out more about Waterwell at
http://www.waterwell.co.uk