3eyegroup the digital "think tank" consolidates its market position in South Florida with its three divisions: Turbonacho, Rendermagic and Flypenguin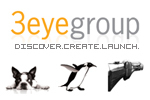 Facing what could probably be the hardest economical downturn of all times 3eyegroup continues to grow by segmenting its service offer in special market niches. Each niche is serviced by a division within the company that is branded to fit the market segment.
TurboNacho is the first first division and is also known as the
Miami web design
. It specializes in Flash and 3d animation, website redesign, Community web design, Template Design, Custom Data Driven Applications, Ecommerce and Shopping Cart integration (Paypal, Amazon Webstore, Google Checkout), Logo Design, Domains and Hosting. With a team of 12 designers, programmers and seo experts it has built more than 80 websites that range from ecommerce shops, real estate, technology, preowned cars, fashion, construction and community sites.
Flypenguin is the second division of 3eyegroup and is widely known for its 2d and 3d animation. One of its most intersting projects was a
medical animation
explaining the process in which pancreatic islets are separated in a "Ricordi Chamber" for Biorep technoligies. It has also created a series of corporate multimedia presentations currently on display on Flypenguin.
Rendermagic is the third division. Its emphasis is in
3d architectural renderings
. During the construction boom of the late 2005 it created more than one hundred 3d renderings and virtual tours. Its client base is shared by developers, architects and marketing agencies that need to promote commercial and residential projects through the use of computer generated images.