The Reserve at Lake Keowee Community Foundation donates $20,000 to four local non-profit organizations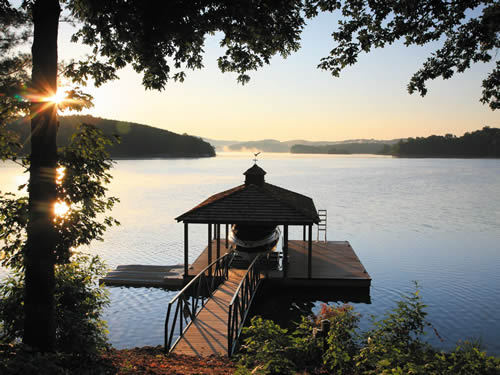 The Reserve at Lake Keowee Community Foundation
distributed funds totaling $20,000 to four local non-profit organizations on April 2 in a presentation luncheon at the private, lakefront resort community.
Members of the Community Foundation's Outreach Committee, representing the residents and property owners of
The Reserve at Lake Keowee
, presented the checks to: - Mary's House (a domestic violence shelter serving women and their children) - Helping Hands Children's Shelter - Pickens County Meals on Wheels - Prevent Child Abuse Pickens County
"Our residents have a strong sense of giving back to the community they live in and they appreciate the work of all our local charitable organizations," said Kathryn Coleman-Gravely, Executive Director of The Reserve at Lake Keowee Community Foundation. "These annual donations, along with our year-long community volunteer work, are an important part of life at The Reserve."
The Community Foundation is committed to sharing The Reserve's resources with the local community through its Outreach program. The program makes appropriations for the contribution of up to 10% of the Foundation's annual receipts to non-profit organizations serving Pickens County and the surrounding communities. The Reserve at Lake Keowee residents serving with the Outreach program are Tina Propper, Lou Ann Lewis, Mary Schatz, and Susan Hall. During the month of February, all Reserve property owners were given the opportunity to help select this year's recipients.
The Reserve at Lake Keowee Community Foundation is a non-profit organization, created to enhance the quality of life and sense of community for property owners of The Reserve at Lake Keowee. The Foundation is funded by a sales transfer fee of all sales at The Reserve at Lake Keowee and is contributed to the Foundation in perpetuity. The Foundation has four major functions serving both the property owners and general public:
1. Environment: to promote environmental stewardship and provide a greater understanding and appreciation of the area's natural resources.
2. Education: to provide educational and enrichment programs for Reserve property owners and the surrounding community.
3. Arts: to promote cultural initiatives for property owners and the surrounding community, with both visual and performing arts.
4. Outreach: to assist charitable organizations and facilitate property owner volunteerism in Pickens County and surrounding communities.
Email The Reserve at Lake Keowee