Web Based Project Management Software Company Celebrates First Year Anniversary with Special Promotion Offering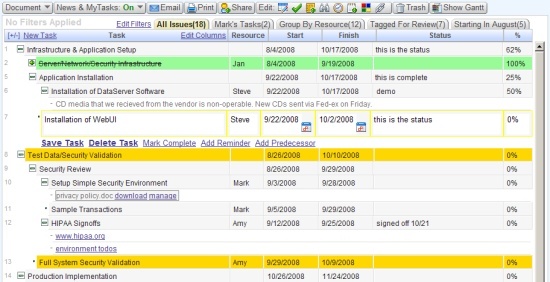 VeoProject (
www.veoproject.com
) launched its web-based project management software one year ago as a cost-effective and easy to use tool that keeps distributed project teams organized and accountable. VeoProject's collaborative project plans and issue trackers have provided thousands of teams with an effective solution to manage their deliverables using a secure, web-based platform.
"In today's economy, every company is seeking innovative technologies in an effort to reduce cost and increase productivity," states John Wyderko, Chief Technology Officer of VeoProject. "VeoProject offers a unique combination of high-end project management features such as Gantt charts, reports and templates in a versatile and low-cost platform." John continues by saying that each day companies migrate to VeoProject as their essential project management tool that keeps everyone in sync and aware of their deliverables.
To celebrate its first anniversary, VeoProject is offering a special promotion. After evaluating VeoProject using the free Basic subscription, you can upgrade to any of our premium subscription plans and the first month is completely free. Sign-up by June 1st, 2009 to take advantage of this special offer.
Visit
www.veoproject.com
to take a product tour and start setting up your collaborative project site today.
About VeoProject Web Based Project Management Software
VeoProject Web Based Project Management Software keeps distributed teams focused, organized and accountable. VeoProject allows teams to build project plans and Gantt charts as well as track issues and share documents using a flexible, highly customizable web-based application. Team members only need access to the Internet to securely access all project information. No hardware or software installation is required, keeping startup costs low and making adoption easy.
VeoProject is for business teams that want powerful collaboration features (i.e. web documents, file sharing, automated reminders, email integration) without sacrificing rich project management functionality. VeoProject subscription plans offer a free solution for small teams as well as graduated monthly pricing that scales up to enterprise teams.