Rob Forshaw Excels In His Second Career At ACF Car Finance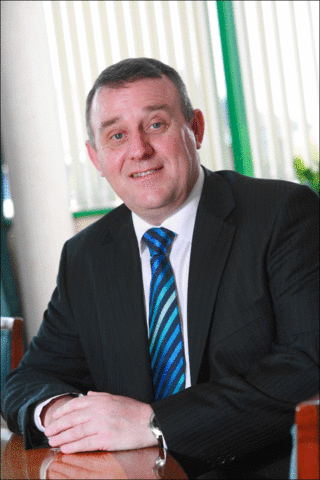 Rising from Sales Executive to Branch Manager of a leading
car finance
company in just three years is a great achievement. Doing so in your second career, launched in the wake of 22 years' outstanding service in the Army makes Rob Forshaw's success all the more remarkable, especially since he has succeeded in transforming the fortunes of his car sales branch in less than twelve months.
Wigan-born Rob left the Royal Signals Regiment in 2002 having served in several trouble spots, including the Balkans, and reaching the rank of Warrant Officer.
After a brief spell as Transport and Logistics Manager with a local removals company, he discovered a talent for sales and spent three years with a company selling windows, kitchens and other home improvements throughout the Northwest.
A keen carp fisherman and DIY enthusiast, Rob commented: "I wanted to work in a sector which involved cars, and applied for a job as a relatively junior Sales Executive with
ACF Car Finance Ltd
at its Manchester branch in Dukinfield."
Rob was appointed in February 2006. Within three months, he was voted one of the group's top three sales people, a performance he maintained for nearly twelve months before he applied for, and won, the job of Sales Manager at ACF Car Finance's Leeds branch in Normanton.
In January last year he was promoted to Branch Manager with responsibility for a team of ten.
It's been an eventful first year during which Rob, using some of the skills acquitted during his services life, has played a leading role in transforming the branch's fortunes.
Focusing initially on establishing the sales team, Rob set about improving all other areas of the business. He and his loyal team have increased sales, and improved the branch's profitability with Leeds now sitting third out of the eight branches in the
ACF Car Finance
group.
The team now has the number one position in their sights.
Rob explained: "There had been a succession of managers at the branch over the previous couple of years and that had caused a lack of stability and focus amongst the team."
"My main aim when I started was to create an atmosphere of success, and boost morale and expectations. A staffing review led us to recruit two extra members of the sales team to ensure we were fully geared up for increased business. That sent out some powerful messages."
Rob continued: "We started building a competitive element within the branch which certainly helped rebuild the team's work ethic, but it was training that provided the cornerstone of the transformation."
"My army service taught me the importance of training and appraisal. It brings clarity and ensures that everything happens when it needs to happen."
"We meet every day and train weekly to ensure that procedures and processes become instinctive, and that everything is done right first time. That way, we can dedicate every minute to building the business and looking after the customers."
"I really landed on my feet with
ACF Car Finance
" said Rob, who lives in Atherton with his wife of 27 years Gill, a nutrition expert with the NHS. "I knew that I wanted a Branch Manager's role and I was delighted when I got there!"
He continued: "I had a fantastic time in the Army, making some great friends and seeing much of the world. It was certainly a big adjustment to start a second career that was so different but the Army gives you the will to win and the discipline to be the best that you can be. That's what sales is all about."
Father of two, Rob is optimistic about business prospects in the coming months.
"There are certainly some big challenges out there but the specialist nature of what we do and the contraction of many of our direct competitors mean that there are some fantastic opportunities for the business to increase its market share during 2009."