Jostens Announces 2009 Photo Contest Winners, 115 winners were selected from more than 8,000 entries nationwide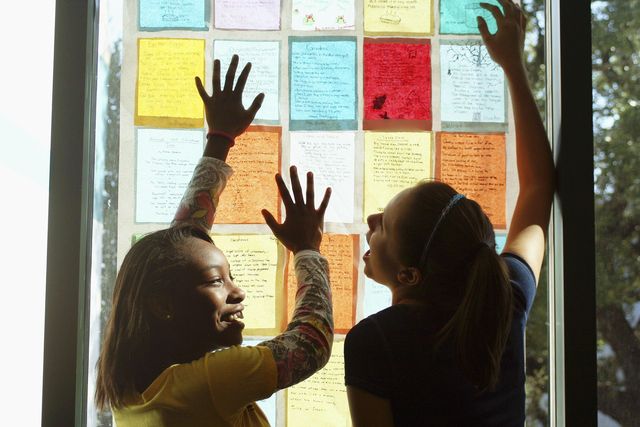 MINNEAPOLIS – May 19, 2009 – Jostens today announced the winners of the 2009 Photo Contest. The nationally acclaimed, annual competition, co-sponsored by Jostens and Wolfe's Camera, recognizes the outstanding accomplishments of student photographers from across the country.
Only 115 winners were selected from more than 8,000 entries received from high school, junior high school, and middle school student photographers, nationwide. Submissions were judged on composition, artistic merit, and technical qualities, as well the ability to convey a compelling story. In addition to one Grand Prize, awards were conferred in eight categories: Academics/Community Service, Illustration, Pictorial, Portrait, School Spirit, Sports: Athletes in action, Student Life, and Junior High/Middle School.
This year's Grand Prize and 1st Place winners are:
Grand Prize: Watch your language, Madison Hoeft, Cedar Valley Middle School, Austin, TX.
Academics/Community Service: Light box, Andrew Visconti, Ward Melville High School, East Setauket, NY.
Illustration: Mass delusion, Cassandra Smith, Vista Ridge High School, Cedar Park, TX.
Pictorial: The shining light, Jasper Gibson, Sandpoint High School, Sandpoint, ID.
Portrait: Staring into space, Richard Stuart Edens, Walter Williams High School, Burlington, NC.
School Spirit: Celebrate, Eva Cranford, Westlake High School, Austin, TX.
Sports: Athletes in action: Reach, Eva Cranford, Westlake High School, Austin, TX.
Student Life: Limbo girl, Bria Hunt, Bryant High School, Bryant, AR
Junior High/Middle School: Grandparent's Day, Jermani Horton, Bethesda Christian Academy, Durham, NC.
"This photography competition demonstrates that sophisticated, high quality photography is being produced by students in schools all across the country," said Gary Lundgren, Jostens' senior program manager/education. "Our contest provides a venue in which their exceptional work can be honored and their unique talents can be recognized."
Hoeft's Grand Prize winning photograph, along with the winning photographs from each of the eight additional Photo Contest categories, will be featured on the Jostens.com Web site. They will also be featured in the 2010 issue of the Jostens Gotcha Covered Look Book, a popular resource for yearbook advisers and staffs seeking creative ideas, trends and inspiration.
About Jostens
Minneapolis-based Jostens is a provider of products, programs and services that help people celebrate important moments, recognize achievements and build affiliation. The Company's products include school yearbooks, scholastic products such as class rings and graduation products, and products for athletic champions and their fans. Jostens is a subsidiary of Visant Corporation, a marketing and publishing services enterprise servicing the school affinity, direct marketing, fragrance and cosmetics sampling and educational publishing markets.
News Release
Contact information:
Richard Stoebe 952-830-3250
richard.stoebe@jostens.com