District of Columbia chooses i-Sight Case Management Software to Improve Handling of Special Education Complaints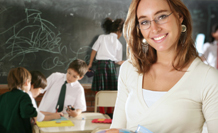 Customer Expressions
www.customerexpressions.com
announced today that the District of Columbia has implemented i-Sight Case Management Software to enable school officials to better address the needs of special education students and their families.
"I'm extremely happy with the i-Sight solution," said Dakarai Thompson, special assistant to the District of Columbia State Superintendent of Education. "i-Sight is user-friendly and intuitive — yet at the same time it's highly flexible and offers the robust reporting functionality we need."
"The i-Sight system went live in July and we are already starting to see the fruits of our efforts in terms of faster response times, improved administration and better reporting," Mr. Thompson added. "I'm pleased with the way everything turned out, and I'm looking forward to making full use of it as we go forward."
The Challenge:
In the late 1990s, a group of parents and guardians of children with disabilities filed a class-action lawsuit against the District of Columbia. The case, which became known as Blackman/Jones, accused the D.C. school system of failing to comply with federal regulations that define the services that must be provided to children with special needs.
After a decade of litigation, the D.C. government signed a consent decree in which it agreed to overhaul its special education system, and to clear up the backlog of children who were waiting for services. At the same time, D.C.'s newly created Office of the State Superintendent of Education (OSSE) was ordered to establish a more efficient system for dealing with complaints from parents who are dissatisfied with the services their children were receiving and believe their families are being denied due process.
In addition, the court ordered the OSSE to maintain detailed records of every case and to provide frequent reports specifying the number of due-process complaints, the status of each of those cases, the number of days required to schedule a hearing or to obtain a decision from a hearing officer, and so on. "Our office operates under a court monitor and we have to adhere to both federal and court-mandated timelines," Mr. Thompson explained. "To satisfy those requirements, we need the ability to report on practically any data point, at any time and anywhere in the system."
The Solution:
Under pressure to comply with the consent decree, OSSE officials set out to find a robust and full-featured computerized docketing system that would enable them to track, manage and report on all due-process complaint cases, both pending and resolved.
Their choice: i-Sight Case Management Software from Customer Expressions, the leader in customizable, web-based solutions for managing complaints, recording the progress of investigations and tracking the status of compliance issues.
According to Mr. Thompson, he and his colleagues in the OSSE considered a number of different case management software products, but chose i-Sight because it was the only solution that was designed to be accessed securely from any location on the Internet, using a standard web browser. "i-Sight was the only system that didn't need to run on a standalone server housed here in our offices," he explains. "The fact that it is web-based was a key factor for us because we deal with independent hearing officers who are not necessarily employees of the state. They're not bound to one desk, and they tend to work wherever and whenever they feel the urge."
Mr. Thompson was equally impressed by i-Sight's flexibility. Unlike many case management products, i-Sight is infinitely customizable to each organization's business needs, managerial structure and workflow. It also offers the ability to store, within the case record itself, electronic copies of all relevant files and documents. "One of our objectives, as much as possible, is to move to a paperless office," Mr. Thompson points out. "i-Sight is really beneficial to us in that regard."
Not only that, but the team at Customer Expressions met what Mr. Thompson describes as an exceptionally tight implementation deadline. "To give you an example, two of the other products we considered were proposing completion times that were roughly double what Customer Expressions was prepared to commit to. It was a very tight schedule but they met our deadline and delivered a product that fully met our expectations."
According to Mr. Thompson, i-Sight has made it much easier for his team to track and manage cases that arise from due-process complaints. Each new complaint is now entered into the system by one of two docketing analysts, who can also upload copies of any related documents. The complaint is then automatically referred to a scheduler, who – working within i-Sight – can assign a hearing officer to the case, reserve a meeting room, and notify all parties of the time and location of the hearing. At that point, the hearing officer takes over and maintains an up-to-date record of the case until a decision is rendered and the case is referred back to OSSE. Throughout the process, automatic alerts, email reminders and escalation notices ensure that each case proceeds quickly, efficiently and in accordance with all federal and court-mandated timelines.
i-Sight's built-in reporting functions have also made it much easier for Mr. Thompson to keep his superiors – as well as the court-appointment monitor – fully apprised of his office's progress in clearing up the backlog of unresolved due-process complaints. On a regular basis, he is required to submit reports on the number of outstanding cases, the length of time it takes to administer those cases, the speed with which hearings are scheduled, and so on; those reports, and others, are preconfigured into the system and available instantly when required. With just a few clicks, he can also generate ad hoc reports based on any conceivable combination of data points. "The reporting functions allow me to constantly monitor what is going on," Mr. Thompson says. "It's easy to use and very robust."
About Customer Expressions
Based in Ottawa, Canada, Customer Expressions (
www.customerexpressions.com
) is a leading provider of web-based complaint software, case management software and investigative solutions.
For further information, please contact:
Joe Gerard, Vice-President, Sales & Marketing
800-465-6089 or
media@customerexpressions.com
Email Customer Expressions