Turtle Beach® Announces Ear Force® P21 Gaming Headset for PlayStation® 3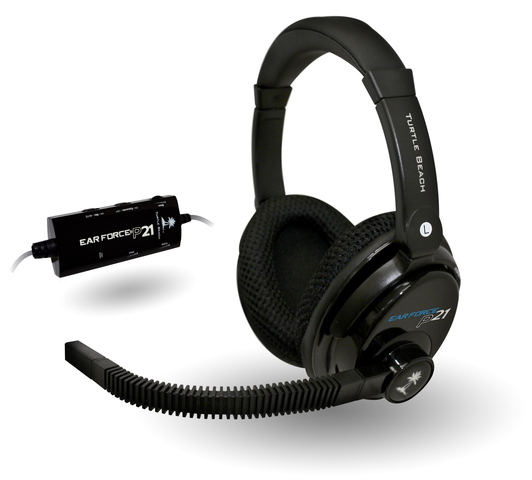 Elmsford, N.Y., June 2, 2009 – Turtle Beach®, the leaders in gaming headsets for XBOX® 360, turns up the heat for PlayStation® 3 gamers with the introduction of its Ear Force® P21 stereo gaming headset for the PlayStation 3. By integrating premium stereo game sound with crystal-clear communication on the PlayStation Network (PSN), the P21 creates the definitive audio environment for playing popular PS3 titles such as Call of Duty® World at War, Fallout 3, Resident Evil and Guitar Hero®.
"The P21 gives PS3 gamers privacy, realism, and a competitive edge at an affordable price." says Peter Ronick, Director of Marketing. "By combining game sound with PSN online chat, PS3 gamers can now enjoy the same immersive gaming experience XBOX 360 gamers have been experiencing for years with our Ear Force XBOX headsets. They can play PS3 games any time, day or night without being disturbed or disturbing others."
Visually compatible with the PS3, the P21 sports a slick, glossy-black design with curves and elements that compliment the PS3 motif. Beyond superior sound, the Ear Force P21 includes unique features for enhanced comfort and convenience during extended game play. Deep fabric-mesh ear cushions sit comfortably around gamers' ears to block out distractions. The twist-style ear cups rotate to lay flat on the shoulders when taking a break from the game. An extra-long 16-foot cable allows freedom to move around the room while playing PS3 games and a convenient belt clip secures the in-line amplifier so it stays out of the way. The rugged design is exceptionally lightweight, for comfortable wear during long play sessions.
The P21 incorporates many of the features found in the popular Turtle Beach Ear Force Xbox 360 headsets, including:
* Independent volume controls for game and voice signals make it easy to balance PSN chat and stereo game sound.
* Variable bass-boost control makes explosions, gun shots and other deep-bass effects more dramatic by allowing the user to increase or reduce low frequencies as needed.
* Proprietary Chat Boost™ feature automatically increases PSN chat levels during loud gaming sequences, so online communication from teammates isn't drowned out.
* Stereo Expander spreads the stereo signal for a wider sound field.
* A microphone with rugged, oversized, flexible boom accurately reproduces the gamer's voice while keeping out unwanted ambient noise.
* A microphone monitor keeps gamers from raising their voices louder than necessary and avoids the "clogged ear" feeling that results when you can't hear yourself speak.
* Premium sound is delivered by wide-bandwidth 40mm speaker drivers with high-density magnets and DC-coupled amplifiers for low distortion.
While designed for the PS3, with an optional RCA to 3.5mm adapter the Ear Force P21 can also be used as a versatile PC headset. By combining the functions of a USB headset and amplified stereo headphones, the P21 allows the sound level from online VoIP programs such as Ventrilo™, Teamspeak™, Say2Play™ and other group communications software to be controlled separately from the stereo game sound.
The Ear Force P21 headset has an MSRP of $79.95 and will be available at major US retailers including Best Buy, GameStop, Amazon, Newegg, Buy.com, Game Crazy and from the Turtle Beach web site
www.turtlebeach.com.
Turtle Beach Ear Force headsets are distributed in Europe by Mad Catz Interactive, Inc. (AMEX/TSX: MCZ
www.madcatz.com.
)
Turtle Beach (
www.turtlebeach.com
) designs and markets high-quality audio peripherals for PC and video game platforms, including its growing line of Ear Force gaming headphones and headsets for XBOX, PS3 and Nintendo game consoles and for personal computer games. Turtle Beach, with headquarters in Elmsford, New York, is a brand of Voyetra Turtle Beach, Inc. which has been at the forefront of music and audio technology for more than three decades and is recognized as a pioneer of today's PC audio industry.
Turtle Beach, Chat Boost and Ear Force are trademarks and registered trademarks of Voyetra Turtle Beach, Inc. Xbox is a registered trademark of Microsoft, Corp. PlayStation is a registered trademark of Sony Corp. All other trademarks are property of their respective holders and are hereby acknowledged.
Editor Note: Artwork is available at
http://www.turtlebeach.com/press/press.aspx