Makers of Europe's leading social network for pet-owners received €480,000 of VC funding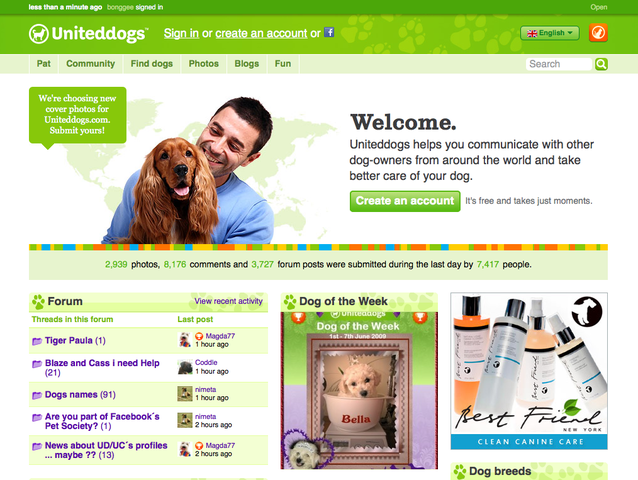 Makers of Uniteddogs and Unitedcats, the Estonia-based United Dogs and Cats Ltd (UDC), received an investment of €480,000.
The investment was made jointly by 3 parties – Ambient Sound Investments - an investment group led by co-founders of Skype, the Estonian state-owned Development Fund, and a private entrepreneur with a web background in the Baltic region, Mr Raivo Hein.
"We have shown a steady growth of both revenues and the user base," CEO of United Dogs and Cats, Mr Ragnar Sass says, "we've got over 200,000 users and we are the market leader in Italy, France, Spain, Lithuania and Estonia. This is something we are really excited about."
Available in more than 10 languages, Uniteddogs and Unitedcats are fun and useful web communities where pet-owners can communicate, find new friends and learn to take better care of their pets.
"The investment will be used to further perfect the core services and to grow the user base," Mr Andrus Oks, a spokesman from the Estonian Development Fund commented.
Currently, the main sources of income for United Dogs and Cats are advertising of pet-related products and paid services for its members, like the Champion membership which enables access to additional features. "Currently, the Estonian economy is in a recession. But in a situation like today, we are glad to have managed to grow our revenues over the last quarters," mr Sass stated. Currently, about three quarters of UDC's revenues come from outside Estonia.
UDC focuses on how to enable great conversations between pet-owners, as well as to help people take better care of their pets. "We will introduce some revolutionary services later this year that will bring veterinarians and pet-owners much closer," Mr Ragnar Sass also added.
Previously, UDC has received €170,000 of funding from Ambient Sound Investments (ASI) in April 2008. "The early stage investment United Dogs and Cats Ltd received from us was successful - the product has been well received by the users. We now look forward to the expansion of the service," Kristjan Laanemaa, an investment manager at ASI, commented.
About United Dogs and Cats Ltd (UDC)
Founded in 2007, United Dogs and Cats Limited is the maker of social networking sites Uniteddogs.com and Unitedcats.com. Company's blog:
http://blog.uniteddogs.com
About Estonian Development Fund
The Estonian Development Fund was launched in April 2007. It was created by the Estonian Parliament to initiate and support changes in the Estonian economy and society that would accelerate modernization of the economic structure, lead to growth of export and contribute to creating new jobs with high qualifications.
www.arengufond.ee
About Ambient Sound Investments
Ambient Sound Investments (ASI) was established by the four founding engineers of Skype. ASI is a investing shareholders' equity primarily in Eastern European start-ups offering innovative technology and services. Since March 2006 the company has invested 8,2 millon EUR in 13 companies in several sectors including telematics, biotechnology and power electronics. For more information, please visit:
www.asi.ee
Email United Dogs and Cats Ltd