School Furniture Guaranteed to Ship in Five Days or Hertz Furniture Pays the Freight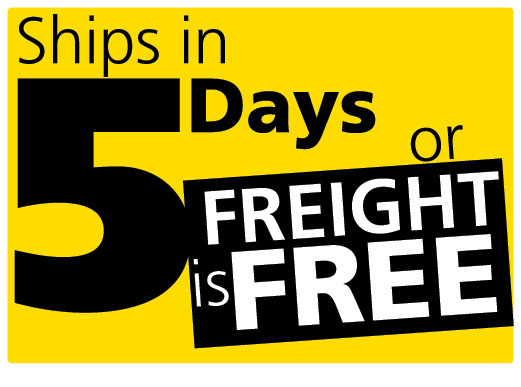 With budgets tighter than ever and the new school year already in sight, Hertz Furniture is giving school administrators a way to get their
school furniture
in on time and possibly save a lot on freight costs. Hertz Furniture's "Ships in 5" program guarantees that all 5-Day items will ship within five business days or Hertz Furniture pays all of the customer's freight charges. That can be substantial, as on a typical order of school furniture shipping can add up to hundreds of dollars or more.
Hertz Furniture's President, Mr. Saul Wagner, explains, "With budgets coming in later than ever this year, many schools have been forced to start their buying cycle late in the year. This has left schools in a situation when they may not receive shipment of the
classroom furniture
in time for the new year. Hertz Furniture's "Ships in 5" guarantee changes all that. Schools can order now and still receive their new school furniture in time."
"Ships in 5" items include all of the core furniture schools typically need before a new school year start. Desks, chairs, combos, tables, computer furniture, library furniture, marker boards, portable partitions, Pre-K furniture and more…Hertz Furniture has it in stock and ready to ship – quickly. Whether a school is updating a library, adding cafeteria tables, or getting ready for a jump in registrations, this program helps schools get what they need, when they need it. The list includes classroom and school furniture from well known manufacturers such as Academia, NPS, Screenflex, Educational Edge, AmTab and Wood Designs. A complete listing of included models is available on the Hertz Furniture website, making it easy for customers to see everything that is included in one spot.
Continues Mr. Wagner, "Our most popular
school furniture
is currently covered by the Ships in 5 program. Smart schools will take advantage of this opportunity to re-supply entire classrooms or departments or fill in missing items. With students away on summer break, this is a great time for shipments to arrive."
To say thanks to its loyal customers, Hertz Furniture offers a free gift to customers whose 5-Day orders exceed $2,500. These customers will receive a free $50 VISA Gift Card, good anywhere Visa is accepted. In addition to expedited order processing, Hertz offers special pricing on many of the items included in this classroom furniture promotion. Quick Shipping + Great Pricing + a Free Gift = 3 great reasons to take advantage of Hertz Furniture's Ships in 5 program today.
About Hertz Furniture
For over 40 years
Hertz Furniture
has supplied schools, religious institutions, businesses and government offices with top quality commercial furniture and superior customer service. Speedy Quotes, Quick Ship products, a wide selection of Eco-friendly Furniture, a Free Project Planning and Design Service and the Best Warranties in the industry are just a few of the ways that Hertz Furniture provides added value to its customers. For additional information on Hertz Furniture and its extensive line of products, please visit
www.Hertz Furniture.com
, speak to a furniture specialist at 800-526-4677, or send an email to
linda@HertzFurniture.com
.