Sconnie(R) Shirts Echo Wisconsin State Sentiment on Possible Return of Brett Favre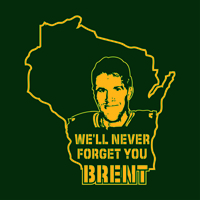 Madison, WI - Local retailer Sconnie Nation prides itself on capturing the essence of life in Wisconsin. As Brett Favre teeters on the verge of a second un-retirement with hated Green Bay division rival Minnesota, the company has commissioned two new designs to echo the disdain felt by many betrayed Wisconsinites (aka Sconnies). Packer Nation has responded in full force, feverishly purchasing the shirts online and in the retailer's Madison,WI location at 521 State Street.
The new t-shirt designs poke fun at a once-beloved Green Bay legend, capturing the sentiments of many locals who feel betrayed by his attempt to sign with a NFC North division rival. The "We'll Never Forget You Brent" and "Benedict Brent" shirts are selling faster than ever these days, and Sconnie(R) is racing to keep up with the demand. "We're rushing shirts to the store to restock shelves and fulfilling online orders left and right," said store manager Isaac Lenz. "We thought the shirts would be a hit but the response has exceeded our expectations." The student owned company will continue to restock the items in preparation for Favre's signing with the Vikings. To help ease the pain and shift the focus to the future, Sconnie(R) also offers a tribute to new Packer quarterback Aaron Rodgers and his Lambeau neighborhood: Mister Rodger's Neighborhood.
The "We'll Never Forget You Brent" design was featured on the popular national sports blog Deadspin.com on June 18th, 2009.
Shirt designs, styles and sizes are listed below.
"We'll Never Forget You Brent"
"Benedict Brett"
"Mister Rodgers Neighborhood"
T-shirts, Sizes: S-2XL, $16.95
About Sconnie Nation: Sconnie(R) is a homegrown Madison, WI apparel company, founded in 2004 by two University of Wisconsin-Madison students in their freshman dorm room. All Sconnie(R) designs are Wisconsin-themed originals designed to celebrate the Wisconsin lifestyle. Sconnie(R) apparel and products are available online at
www.sconnie.com
and in their Madison downtown location, at 521 State St, Madison, WI 53703. For more information visit
www.sconnie.com
or contact the company as listed above.