ProExams.com™ Expands Service Offerings to the Testing Community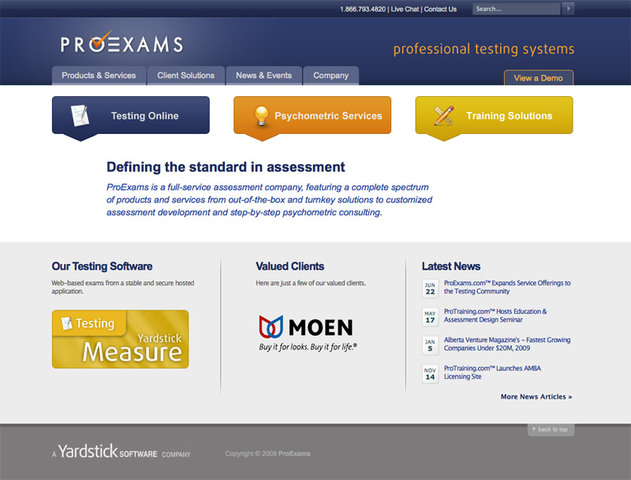 EDMONTON, Alberta, June 25, 2009 – ProExams.com™ is pleased to announce the addition of new consulting services, products and training resources available to the Certification & Licensure and testing community. ProExams is an operating division of Canadian based Yardstick Software Inc. and has been offering online testing solutions since 2003.
Chris LaBossiere, Co-Founder and Manager of Corporate Development, "We have seen significant growth of our online testing services product solution, and this was the natural next step for our company. By adding psychometric consultative services, psychometric training, as well as building out additional software tools and resources, we feel very well positioned to be a full service professional testing service."
"Very few companies in North America have a full product and service blend like ProExams. Now we can offer full psychometric services, online and offline testing delivery, access to over 300 test proctor centers across the continent, and innovative software resources."
The company has also launched a new website, at
www.ProExams.com
, which describes in detail the new products and services available. If you want to learn more about ProExams, psychometrics, or taking your testing program online, please contact our offices at (866)-793-4820, or email
info@proexams.com
.