Jostens announces 2009 YearTech® Online Yearbook Design Contest winners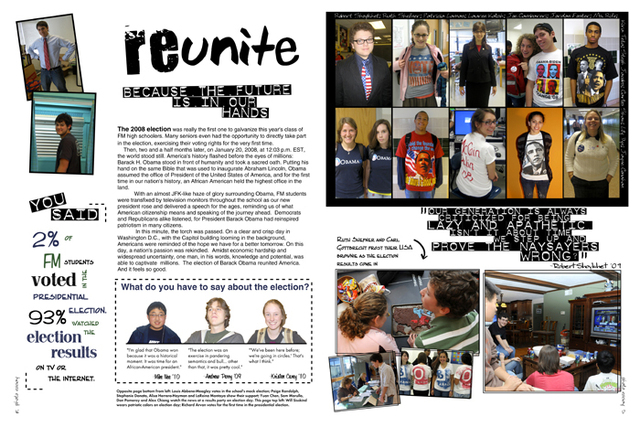 MINNEAPOLIS – June 30, 2009 – Jostens, a national leader in yearbook production, has announced the winners of its 2009 YearTech® Online Yearbook Design Contest. This annual competition recognizes the outstanding accomplishments of student yearbook designers who create yearbook spreads using Jostens YearTech® Online.
Twenty-four winners were selected from more than 2,500 entries received from high school, junior high school, and middle school student yearbook page designers from across the United States and Canada. Three yearbook advisers, whose students use YearTech Online to create their yearbook spreads, served on this year's panel of judges. The winning entries demonstrate an exceptional awareness of design standards and present visual and verbal content in a creative, reader-friendly fashion.
In addition to one Grand Prize, awards are conferred upon First, Second and Third Place winners. Twenty students earned Honorable Mention citations as well.
This year's Grand Prize and First, Second and Third Place winners are:
Grand Prize Design: Megan Kelley, Fayetteville-Manlius High School, Manlius, NY (Renee Levy, yearbook adviser). Grand Prize: Laptop computer.
First Place Design: Matthew Klein, La Plata High School, La Plata, MD (John Childers, yearbook adviser). First Place Prize: Digital camera
Second Place Design: Michael Bryce, Red Mountain High School, Mesa, AZ (Jan Saquella, yearbook adviser). Second Place Prize: iPod Touch
Third Place Design: Zachary Thomas, Glenbard North High School, Carol Stream, IL (Rosemary Borzym, yearbook adviser). Third Place Prize: Camcorder.
"This competition shows that sophisticated, high quality print design is being produced, online, by students in yearbook programs all across the country," said Gary Lundgren, Jostens' senior program manager/education. "These spreads incorporate amazing creativity and appealing, innovative content that speaks to today's savvy teen readers. Our contest provides a venue in which the work of students, who design printed yearbook spreads using online design tools, can be honored and their unique talents can be recognized."
Kelley's Grand Prize YearTech Online yearbook spread, as well as the First, Second and Third Place winning spreads, are featured on both the YearbookAvenue.com and Jostens.com Web sites. They will also be featured in the 2009 Fall issue of the Jostens Adviser & Staff and the 2010 Gotcha Covered Look Book, a popular resource for yearbook advisers and staffs seeking creative ideas, trends and inspiration.
About Jostens
Minneapolis-based Jostens is a provider of products, programs and services that help people celebrate important moments, recognize achievements and build affiliation. The Company's products include school yearbooks and other memory book products, scholastic products such as class rings and graduation products, and products for athletic champions and their fans. Jostens is a subsidiary of Visant Corporation, a marketing and publishing services enterprise servicing the school affinity, direct marketing, fragrance and cosmetics sampling and educational publishing and trade segments.
Contact information:
Rich Stoebe
952-830-3250
richard.stoebe@jostens.com