Jostens Announces 2009 Yearbook Design Contest Winners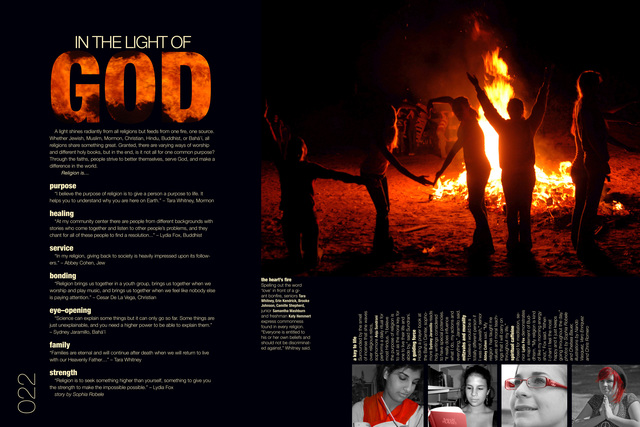 MINNEAPOLIS – June 30, 2009 – Jostens, a leader in yearbook production, is pleased to announce the winners of the 2009 Yearbook Design Contest. This nationally acclaimed, annual competition, co-sponsored by Jostens and Adobe, recognizes the outstanding yearbook design accomplishments of student designers from across the country.
Twenty-five winners were selected from 700 yearbook spread entries received from high school, junior high school, and middle school student yearbook designers nationwide. Three nationally recognized yearbook experts served on this year's panel of judges. The winning entries, created using Adobe InDesign software, demonstrate an exceptional awareness of design standards and present visual and verbal content in a creative, reader-friendly fashion.
In addition to one Grand Prize award, honors are conferred upon First, Second and Third Place winners. Twenty-one students earned Honorable Mention citations as well.
This year's Grand Prize and First, Second and Third Place winners are:
Grand Prize: Sophia Robele, Franklin High School, El Paso, TX (Jai Tanner, yearbook adviser). Grand Prize: Laptop computer with Adobe Creative Suite software.
First Place: John Bryant, St. Mark's School of Texas, Dallas, TX (Ray Westbrook, yearbook adviser). First Place Prize: Adobe Creative Suite software.
Second Place: Ian Baker, Franklin High School, El Paso, TX (Jai Tanner, yearbook adviser). Second Place Prize: Adobe InDesign software.
Third Place: Andrea Tudhope, Shawnee Mission East High School, Prairie Village, KS (C. Dow Tate, yearbook adviser). Third Place Prize: Digital camera.
"This competition demonstrates that sophisticated, high quality design is being produced by students in yearbook programs all across the country," said Gary Lundgren, Jostens' senior program manager/education. "These spreads incorporate amazing creativity and appealing, innovative content that speak to today's savvy teen readers. Our contest provides a venue in which the work of student designers can be honored and their unique talents can be recognized."
Robele's Grand Prize yearbook spread, as well as the First, Second and Third Place winning spreads, are featured at
www.Jostens.com
, YearbookAvenue.com, and Adobe.com Web sites. They will also be featured in the 2009 Fall issue of the Jostens Adviser & Staff and the 2010 Gotcha Covered Look Book, a popular resource for yearbook advisers and staffs seeking creative ideas, trends and inspiration.
About Jostens
Minneapolis-based Jostens is a provider of products, programs and services that help people celebrate important moments, recognize achievements and build affiliation. The Company's products include school yearbooks and other memory booksscholastic products such as class rings and graduation products, and products for athletic champions and their fans. Jostens is a subsidiary of Visant Corporation, a marketing and publishing services enterprise servicing the school affinity, direct marketing, fragrance and cosmetics sampling and educational and trade publishing segments.
Contact information:
Rich Stoebe, Jostens
952-830-3250
richard.stoebe@jostens.com