Plain Sailing with Eurocamp's Fabulous Ferry Deals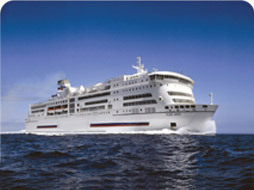 Offering an irresistible combination of convenience, value for money and flexibility, ferries are a great way to travel – and with many Eurocamp parcs within a short drive of several ferry ports across Europe – it's a perfect way to start a summer holiday.
With such benefits, it's no wonder over 40 million passenger journeys are made by ferry each year. And this is likely to increase further, with ferry companies set to invest £1 billion in new services and ships over the next three years.
To help its customers take full advantage of this fun and easy way to start a holiday, Eurocamp is offering free crossings and other great prices on
ferry travel
to many ports across Europe including
France
,
Spain
and
Holland
. The leading tour operator's holiday base price includes a free return mid-week P&O Dover-Calais crossing, making them a hugely cost effective getaway option.
It's little wonder therefore that so many Eurocampers make the most of this comfortable, 'holiday-starts-here' service by setting sail across the channel.
Onboard there's plenty to keep everyone relaxed and entertained, with an impressive range of facilities - including reasonably priced refreshments, safe children's play areas and duty-free shopping.
And with no lengthy security check-in procedures or baggage restrictions and the flexibility of taking your own vehicle, you can simply drive off at the other end - all set to enjoy your holiday with complete independence and freedom to explore the best that Europe has to offer.
And like all aspects of a Eurocamp holiday, ferries are hugely economical and provide a cost-effective travel option as prices are charged per party rather than per person.
P&O to Picardy parc:
A seven-night stay at Eurocamp's
Domaine de Drancourt
parc, in St Valéry, Picardy, arriving on Thursday 9 July and staying in a 2-bedroom 'Superior' mobile home (sleeps seven max) costs £469 including free mid-week return Dover-Calais ferry crossings with P&O - offering a massive saving of £409.
Ideally placed just 70 miles from Calais, Domaine de Drancourt is located in the gardens of a stunning château: the perfect holiday destination for a young family. Rated Toddler Friendly by Eurocamp and boasting a real family atmosphere, there's a children's play area, three swimming pools, free Eurocamp kids' clubs and restaurant, bar and takeaway on parc.
Brittany Ferries to Vendée vacation:
A seven night stay at Eurocamp's
Les Ecureuils
parc, in St Hilaire-de-Riez, Vendée, arriving on Friday 10 July and staying in a 2-bedroom 'Superior' mobile home (sleeps seven max) with decking, costs just £578 including return Poole-Cherbourg ferry crossings with Brittany Ferries.
Toddler Friendly rated parc, Les Ecureuils is perfectly situated just across the road from a great beach, where the sand stretches for miles. On the family run parc there are five fabulous swimming pools with waterslides and a fountain and the beautifully kept and landscaped grounds are perfect for relaxing in the endless sunshine. There's also a bar, restaurant and takeaway and, if you fancy getting out and about to explore, the lively resorts of St Hilaire and St Jean de Monts are both just a few of miles away.
For further information on Eurocamp please call 0844 406 0552 or visit
www.eurocamp.co.uk
Email Eurocamp Camping Holidays