Unprecedented Demand For iPhone 3G S Desktop Docking Products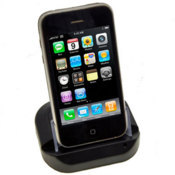 Mobile Fun
, the online retailer of Mobile Accessories, has announced that the launch of the iPhone 3G S has created unprecedented demand for iPhone 3G S desktop docking products.
When a faster, more powerful iPhone is released, demand for
iPhone accessories
will always be high. The usual suspects – a nice new
iPhone case
, a screen protector and a car charger are must-have accessories, however sometimes technology and its limitations drive surprising demand. This time desktop docking products have become all the rage.
Jazz Singh, Product Manager at Mobile Fun said,
"Nothing ever stands still. With the advent of push notification apps on the iPhone 3G S and the fact that the 3G S has poor battery life has meant the
desktop dock for the iPhone 3G S
has become an absolute must.
It allows you to not only show off your new iPhone but also view your emails in real-time, send text messages, send instant messenger messages and receive push notification app messages, such as high pollen counts, without worrying about your battery running out of steam!"
There are a number of
iPhone dock
solutions available at Mobile Fun that have been specifically selected to suit all user needs.
About Mobile Fun
MobileFun.co.uk is the UK's biggest online retailer of Mobile Accessories, Mobile Phones, Ringtones, Mobile Games and other entertainment products.
Based in Birmingham, Mobile Fun was ranked as the UK's 7th Fastest Growing Technology Based Company in the Sunday Times 2006 Microsoft Tech Track 100.