EliteHealth launches new patient portal system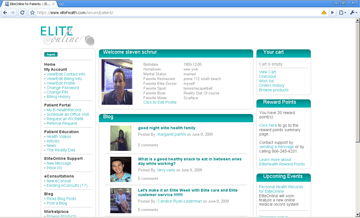 July 17, 2009 – Miami, FL – EliteHealth (
www.elitehealth.com
) is excited to announce the release of its new feature-rich online patient portal: EliteOnline, available to the general public. EliteOnline offers online features such as medical record access, appointment, referral, and prescription refill requests and additional educational resources. What makes the EliteOnline patient portal so unique is its features like online eConsultations, its health blog and social networking.
EliteOnline's eConsultation feature presents patients with the ability to securely communicate with board-certified physicians in a variety of sub-specialties via email or live video web conferencing, from the comfort of their home. Secure email eConsultations are designed for patients who don't own a webcam or have a simple question for the physician. The live video eConsultations enable patients to do more complicated online sessions with their physician via live high-resolution video and audio.
EliteOnline's unique health blog feature enables users to communicate with each other as well as with the nationwide EliteHealth network. Users can also create and share their profiles with other users via the health blog. "Our goal was to bring a social aspect to healthcare by allowing patients to share their health experiences with others." says Steven A. Schnur, M.D., founder and CEO of EliteHealth.
EliteOnline is available to EliteHealth patients as well as anyone who is seeking a secure website to store their medical records, to consult with physicians electronically or to join an online community focused on preventive medicine. EliteOnline is available for $9.95 per month and users can sign up by visiting
www.elitehealth.com.
EliteOnline was built by Medical Web Experts (
www.medicalwebexperts.com
), a San Diego based website design and development company specializing in web design and patient portal solutions for the medical industry.
About EliteHealth
EliteHealth.MD, LLC provides healthcare at the highest level and specializes in concierge and executive medicine. With diagnostic testing, including state-of-the-art prevention screening, all under one roof, EliteHealth removes the boundaries found in traditional health practices. Based primarily in South Florida, EliteHealth has affiliate offices across the nation, including Los Angeles, New York, Dallas, Chicago. Annual membership plans are available which include EliteOnline, Prevention Plus and Executive Wellness plans. EliteHealth offers its members such advanced diagnostic tests as heart scans, body scans, heart stress tests and calcium scoring, with on-site lab processing and same day results. For more information please call EliteHealth at 866-245-4231, visit our website at
www.elitehealth.com
, visit us on Facebook (
http://www.facebook.com/pages/EliteHealth/101661487420
) or follow us on Twitter (
http://twitter.com/myelitehealth
).