Best Fall Bear Trips: From Rare BC Spirit Bears to Chinese Pandas on Natural Habitat Adventures Eco Tours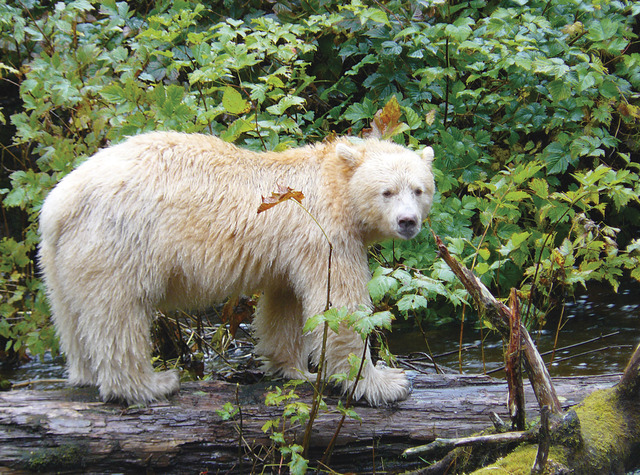 Boulder, Colorado – July 30, 2009 – From stalking the mystical Spirit Bear – a rare white subspecies of black bears living in a remote tract of Canadian coastal rainforest – to viewing endangered giant pandas in China to traveling among hundreds of polar bears on the shores of Hudson Bay, the best bear tours, like Natural Habitat Adventures' small-group eco tours, provide an intimate experience of these impressive animals, closely tied to the complex conservation issues that threaten them. These four top fall bear trips from China to the Arctic, offered by award-winning eco travel company Natural Habitat Adventures, go well beyond the bear essentials:
- Only 400 or so rare Kermode bears – known to Native Americans as the Spirit Bear – remain. The new Spirit Bears and Humpback Whales of BC tour travels aboard a private sailing ketch exploring the largest remaining tract of virgin temperate rainforest – with kayaking from shipboard among humpback whales. 9 days, September/October, $5,995, for 14 people.
- See endangered giant pandas in natural habitat in eastern China's Bifengxia Panda Base, and the Asiatic Black Bear – known as the Moon Bear – in Chengdu. The Wild and Ancient China tour also includes man-made wonders: the Terracotta Army and the Great Wall. 12 days, September 2009 (May – September 2010), $6,995, for 15 people.
- Watch abundant grizzly bears feasting on salmon on this new tour into Canada's "Wild West," remote Chilcotin Country. Bears & Eagles of Chilko Lake includes nature encounters by raft, kayak, boat and helicopter and lodging on alpine Chilko Lake. 6 days, September, $5,995, for 12 people.
- Experience up to 100 bears a day, as well as arctic fox, caribou, the northern lights and more on five separate Churchill polar bear itineraries. Classic Polar Bear Expedition is 6 or 7 days, October/November, from $4,595, for 15 people.
A member of Adventure Collection and exclusive Conservation Travel Provider to World Wildlife Fund, Natural Habitat Adventures' awards include a 2009 Best Adventure Travel Company ranking from National Geographic Adventure and 2009 World's Best Tour Operator honors from Travel + Leisure. All Natural Habitat Adventures trips are carbon neutral. For information, visit
www.nathab.com
.
Media Contacts: Matt Kareus, Natural Habitat Adventures, 303.449.3711,
mattk@nathab.com
; or Darla Worden, WordenGroup Strategic Public Relations, 307.734.5335,
darla@wordenpr.com
.
Email WordenGroup Public Relations