TravelStore Features Special Offers On Princess Cruises Tropical Cruise Getaways to Sun-Swept Caribbean, Panama Canal and Mexican Riviera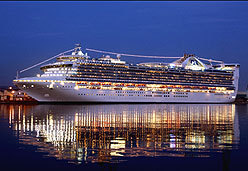 LOS ANGELES, Calif. (July 31, 2009) – Whether travelers choose to explore the beaches and colorful islands of the Caribbean, enjoy the warm welcoming culture of the Mexican Riviera, or marvel at the dramatic Panama Canal,
TravelStore
offers a wide array of options for tropical cruise getaways to some of the most popular warm weather destinations on one its most popular cruise lines,
Princess Cruises
.
"With the convenience of close-to-home departure points, these itineraries present many inclusively-priced vacation options in the balmy tropics," said Dan Ilves, TravelStore Vice President. "So many people have delayed taking vacations, a cruise vacation is a more affordable way for many to escape the grind, enjoy the warmth of the tropics and take advantage of the best deals."
A number of Princess Caribbean cruises, which range from one-week to up to 14 days, feature the private beach of Princess Cays. On Princess Mexican Riviera cruises, passengers can sail from Los Angeles or San Francisco to some of the area's most popular resorts south of the border. Those wishing to experience one of the world's greatest engineering marvels on Princess Panama Canal cruises can choose from convenient round-trip voyages or experience the drama of a full canal transit.
"With the pent-up demand for travel, we have released next year's fall and winter schedules early so travelers can begin to plan and book future vacations early and avoid disappoinment," said Ilves. "Of course, there are some great opportunities yet this year to getaway to these popular cruise destinations."
Highlights of next year's tropical getaway options include:
Caribbean Cruises
–a variety of vacation options exploring the Eastern, Western and Southern Caribbean.
Seven-Day Eastern Caribbean –Roundtrip cruises from Fort Lauderdale on Sundays. The itinerary features calls at Princess Cays, St. Maarten, St. Thomas and Grand Turk.
Seven-Day Western Caribbean –Roundtrip cruises from Fort Lauderdale, visiting Grand Cayman, Roatan, Cozumel and Princess Cays.
Seven-Day Southern Caribbean –Cruises from San Juan on two alternating itineraries. The Classic Southern Caribbean route sails to the ports of St. Thomas, Tortola, Antigua, St. Lucia and Barbados, while Southern Caribbean Explorer sailings travel to St. Thomas, Dominica, Grenada, Bonaire and Aruba.
10-Day Eastern and Southern Caribbean – For a more in-depth island vacation with the convenience of roundtrip travel from Fort Lauderdale. The Southern Caribbean Medley itinerary calls at Princess Cays, St. Thomas, Dominica, Grenada, Bonaire and Aruba. The Eastern Caribbean Voyager itinerary offers calls at Antigua, St. Lucia, Barbados, St. Kitts, St. Thomas and Princess Cays.
14-Day Caribbean Collection – Cruises roundtrip from Fort Lauderdale. The ship sails to Aruba, Curaçao, Grenada, Barbados, St. Vincent, St. Kitts, St. Thomas, Santo Domingo (Dominican Republic) and Grand Turk.
14-Day Sailings from Barbados –A series of alternating 14-day Caribbean voyages from Barbados. The Grand Caribbean Islander route feature calls at Tobago, Grenada, Bonaire, Aruba, Grand Cayman, Ocho Rios, Tortola, Antigua, St. Kitts and Dominica. The Grand Caribbean Adventurer itinerary features stops at Grenada, Bonaire, Curaçao, Grand Turk, Tortola, St. Maarten, Antigua, St. Lucia, St. Vincent and Trinidad.
Mexican Riviera Cruises
–Cruisers can choose from departures from either Los Angeles or San Francisco.
Seven-Day Mexican Riviera from Los Angeles–This popular seven-day roundtrip route takes in favorite Mexico ports with calls in Puerto Vallarta, Mazatlán and Cabo San Lucas.
10-Day Mexican Riviera–One roundtrip sailing from San Francisco to Catalina, Puerto Vallarta, Mazatlán, Cabo San Lucas and San Diego, departing on September 29, 2010.
11-Day Mexican Riviera–From San Francisco featuring calls at Acapulco, Zihuatanejo/Ixtapa, Puerto Vallarta and Cabo San Lucas. Three departures on April 8, 19 and 30, 2011.
Panama Canal Cruises
– A "must see" feat of engineering. On an extended 15-day cruise features the line's Two-Day Canal Experience – a full Canal transit plus a day with the ship anchored at Fuerte Amador, on the Canal's Pacific side. Passengers can take advantage of this extra day in Panama to enjoy a variety of shore excursion options including the Panama Canal Railway, Panama City, Soberania National Park Rainforest or a visit to an authentic Embera Indian Village.
15-Day Panama Canal with Two-Day Experience –Sailings between Fort Lauderdale and Los Angeles or San Francisco. In addition to the Canal transit and additional Panama call at Fuerte Amador, the cruise visit Cabo San Lucas, Acapulco, Huatulco, Puntarenas (Costa Rica), Cartagena and Aruba. Departures are offered between September 21, 2010 and May 4, 2011.
10-Day Panama Canal Full Transit Sailings – The 10-day Panama Canal Adventurer route between Fort Lauderdale and Acapulco offers a full Canal transit plus visits to Ocho Rios, Fuerte Amador or Cristobal, Costa Rica (Puntarenas), Nicaragua (San Juan del Sur) and Huatulco. Departures between October 6, 2010 and April 24, 2011.
10-Day Roundtrip Panama Canal– Roundtrip from Fort Lauderdale, with a partial Panama Canal transit to Gatun Lake followed by a call in Cristobal, plus calls in the Caribbean ports of Aruba, Cartagena, Limon (Costa Rica) and Ocho Rios.
Current as well as these tropical sailings are currently available for booking. Early reservations are encouraged to secure the best stateroom selection. Fares for seven-day Caribbean and Mexican Riviera sailings start at $569 per person, and 10-day Panama Canal cruise fares begin at $1,199 per person, based on double occupancy.
TravelStore is one of the nation's top award-winning travel agencies, and a Princess Cruise specialist. Additional information is available calling 1-800-821-4271, or by visiting the company's cruise website.