Camu Camu Juice to be sold by Dr. Tim's Exotic Juices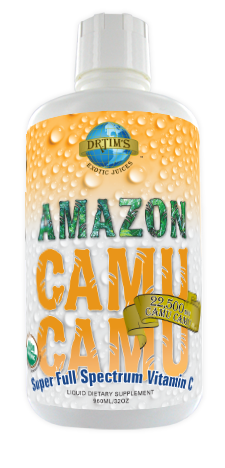 Dr. Tim's Exotic Juices announces the release of the newest addition to his exotic juice line: Camu Camu. Sounds so nice , you say it twice.
Camu-camu fruit has the highest recorded amount of natural vitamin C. Several studies document the correlation between vitamin C deficiency and depression. Vitamin C also has broad-spectrum antioxidant properties. Camu Camu packs over 30 times more the Vitamin C than oranges. Additionally it has 10 times the Iron, 3 times the niacin, 2 times the riboflavin and 50% more phosphorous than oranges. Camu Camu is also rich in beta-carotens, calcium, leucine, protein, serine, thiamin and valine.
Camu camu contains several antidepressant compounds and inflammation-fighting nutrients such as ellagic acid, calcium, thiamin, and phosphorus that protect brain function, helping your body maintain high levels of mood-boosting chemicals, says James Duke, a former botanist with the U.S. Department of Agriculture and author of Green Pharmacy Guide to Healing Foods (Rodale, 2009).
HEART CARE: In a study published in the Journal of Cardiology last year, researchers at a Japanese university found that camu camu's multiple heart-protective anti-inflammatories and antioxidants were more powerful than those of ascorbic acid (vitamin C) alone.
Dr. Tim's Amazon Camu Camu is available in 32 ounce bottles. Go to
www.brazilbotanicals.com
and reserve your bottle now.
Email BrazilBotanicals.com