Popular Holiday Website Finds Millions Of Cheap Holidays To Fill The Last Minute Demand This Summer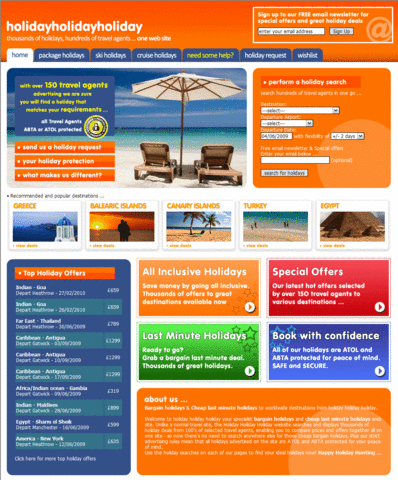 With searches for
cheap holidays
seeing a big increase in the last few weeks due to the UK weather, Holiday Holiday Holiday has added millions of more holidays to its website. In response to demand there is now a huge range of September and August 2009 holidays live and accounting for over 50% of the millions of offers available on the holiday website.
The most popular searched destination on holiday holiday holiday still remains as
Turkey
at the moment, with
Greece,
Spain, and the Balearic Islands following closely behind. Majorca is still a popular searched destination despite recent news and long haul destinations such as the Caribbean have seen a renewed interest as people look to escape the rain and visit sunnier climates. The abundance of last minute holidays available at the moment has been largely due to the previously slow take up of foreign holidays this year, with many people previously looking towards UK holidays.
With the opportunity now of some great last minute deals to be had, many people have now refocused their search, using holiday websites such as holidayholidayholiday.co.uk, in order to find a cheap holiday bargain. With the great British summer turning out to be a bit of a washout so far and the forecast for August relatively bleak, holiday makers are looking to holidays abroad to fill the sunshine gap, with many opting for all inclusive holidays to help them stick to a budget and plan for their holiday ahead.
Holiday Holiday Holiday Marketing Director Emma Healey said "We are experiencing a noticeable rise in last minute holiday searches on the website as holidaymakers resign themselves to the fact that a summer holiday in the UK is increasingly unlikely and look instead to foreign shores for guaranteed sunshine".
"With a wide range of holidays on offer, from all inclusive to
cheap holidays
on a budget, and the expertise on offer through the hundreds of travel agents using our site, holidayholidayholiday.co.uk is extremely well equipped to offer holiday makers everything they need to find their perfect holiday".
Holiday Holiday Holiday re-launched with a new design and improved search facilities on the 1st July this year, whilst also securing a deal with hundreds of travel agents to increase the total amount of holidays on the website to many millions.
Email Holiday Holiday Holiday