Turtle Beach® Announces Ear Force® X31 Stereo Wireless Digital RF XBOX 360® Gaming Headset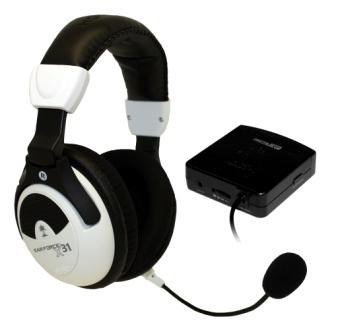 Elmsford, N.Y., August 10, 2009 – Turtle Beach, the leaders in premium XBOX 360 headsets, today announced a new addition to their growing line of Ear Force gaming headsets-the Ear Force X31. Positioned as the successor to the highly acclaimed Ear Force X3, the X31 includes digital RF wireless CD-quality stereo sound plus XBOX LIVE® chat, to create the definitive audio environment for playing popular XBOX 360 titles such as Call of Duty 4® Modern Warfare®, HALO® 3, Left 4 Dead®, Grand Theft Auto® IV and Guitar Hero®.
"The X3 has earned the enviable reputation as the most popular wireless stereo headset for the XBOX 360. We're confident that once XBOX® gamers get their hands on the X31, they'll be blown-away by the phenomenal enhancements in the new design," said Peter Ronick, Director of Marketing. "The X3 was a great headset. But the X31 feels better, looks better and more importantly, sounds better, by virtue of its CD-quality, uncompressed, digital RF wireless technology. So we're confident it will be even more popular than its legendary predecessor."
The X31 includes all of the features that make Turtle Beach Ear Force the most popular brand of headsets for avid XBOX gamers, such as the Chat Boost™, which automatically increases the volume of XBOX LIVE chat as the game gets louder, microphone monitoring so you can hear what you're saying even though the headset is covering your ears and bass boost to enhance the deep bass from explosions and other sounds. For superior sound fidelity, the X31 ear cups incorporate improved 40 mm speakers based on the same design as the high-fidelity X41 speakers.
Enhancements in the X31 over the original X3 model include:
- The X3 analog infrared wireless signal has been replaced with digital 2.4 GHz RF wireless technology, for low-latency, uncompressed, CD-quality sound with no background hiss, no interference from plasma TV screens and no line of sight restrictions between the transmitter and headset.
- The headset includes a Digital Signal Processor for bass boost and stereo expander effects. An audible beep indicates which effect is turned on as you press the Effects button on the headset.
- The X31 transmitter is powered by a USB port on the XBOX or nearby PC, Mac or laptop, so gamers will have one less power adapter to worry about. This is especially convenient when using it overseas, since it eliminates the need for special power adapter plugs.
- A new "battery booster" circuit in the headset extends battery life for up to 25 hours and assures that the sound quality will stay crisp and clear until the batteries are completely drained. Optional rechargeable batteries can be used in place of alkaline batteries.
- The X31 headset comfort has been improved by increasing the size of the ear cups so they sit around your ears rather than on top of them. In addition, the X3 vinyl ear cushions have been replaced with soft, fabric mesh ear cushions that let your ears breathe, for added comfort during long gaming sessions.
Although primarily designed for XBOX 360 gaming, the Ear Force X31 is compatible with other gaming consoles (note that the integrated microphone works only with the 360) and can also be used as a home-theater accessory for enjoying DVD movies, watching TV or listening to music.
The Ear Force X31 headset has an MSRP of $99.95 and will be available at Best Buy, GameStop and other major US and Canadian retailers in September, and from the Turtle Beach web site
www.turtlebeach.com.
Turtle Beach Ear Force headsets are distributed in Europe by Mad Catz® Interactive, Inc. (AMEX/TSX: MCZ
www.madcatz.com.
)
Turtle Beach (
www.turtlebeach.com
) designs and markets high-quality audio peripherals for PC and video game platforms, including its growing line of Ear Force gaming headphones and headsets for XBOX, PS3 and Nintendo game consoles and for personal computer games. Turtle Beach, with headquarters in Elmsford, New York, is a brand of Voyetra Turtle Beach, Inc. which has been at the forefront of music and audio technology for more than three decades and is recognized as a pioneer of today's PC audio and gaming headphone industry. Turtle Beach, Voyetra, Ear Force and Chat Boost are trademarks or registered trademarks of Voyetra Turtle Beach, Inc. XBOX is a registered trademark of Microsoft, Corp. All other trademarks are property of their respective holders and are hereby acknowledged.
Editor Note: Artwork is available at
http://www.turtlebeach.com/press/artwork.aspx