The 'Staycation' Makes Way For Last Minute Summer Holidays Abroad says HolidayHoliday.co.uk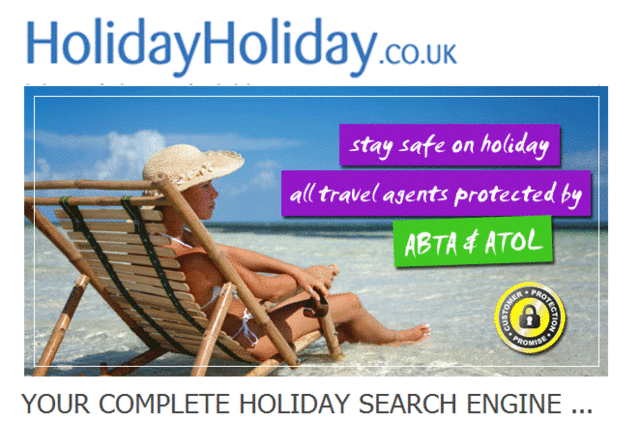 Contrary to the much publicised 'staycation' plans this year, the resulting washout summer so far and current economic climate seems to have bucked the trend - resulting in families in particular searching instead for
last minute holidays
abroad.
In fact a recent Tesco poll suggests that up to 39% of parents still havent yet booked their summer holiday with 47% saying that the main reason for this was to get a good deal. This desire to book a good holiday deal plus the Met Office acknowledgement that July was "disappointing" with regards to weather, has led to a surge in last minute holidays being searched and booked through popular holiday websites such as Holidayholiday.co.uk.
In fact the rush has been so apparent, it has added pressure onto the car hire companies in the holiday destinations due to the high demand. This high demand has also reportedly led to some of the mainstream tour operators increasing holiday prices for last minute holidays. This has been cited as being due to them having fewer holidays to sell, due to factors such as the collapse of XL and other travel related firms in recent years.
Holiday Holiday Director Emma Healey commented "We have seen an increase in many customers searching and booking their
last minute holidays
especially in the last couple of weeks, as holidaymakers give up on the idea of a hot summer in the UK and look to sunnier shores, booking
holidays packages to Egypt
and
Turkey
. There may be less availability now in the summer holidays market compared to two years ago, but the ABTA bonded agents that advertise on Holiday Holiday are very well placed to provide for the last minute holiday rush as they can also create their own tailor made
holiday packages
, protected by their ATOL licence, in addition to selecting the more mainstream package holiday deals."
Indeed, a quick search through the holiday holiday website displays an abundance of august 2009 holidays, all advertising freephone 0800 numbers for the budget conscious traveller, with the added peace of mind that all of the travel agents advertising are protected by ABTA/ATOL.
With the latest forecast from the Met Office that rainfall will be near or above average in August, last minute holidays abroad are still set to be in huge demand through the coming months.