"BEST OF SAN DIEGO" PARTY, SAN DIEGO'S TOP RESTAURANTS AND BUSINESSES TO EXHIBIT AT LIBERTY STATION'S NTC PROMENADE, FRIDAY, AUGUST 28, 6 – 10 PM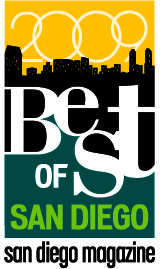 San Diego – August 21, 2009 – San Diego's most popular restaurants, voted "Best of San Diego in their respective business categories by the subscribers and editors of San Diego Magazine, will provide delicious food and drink samples all night long at the Best of San Diego Party, Friday, August 28 from 6:00 to 10:00 PM at Liberty Station's Legacy Plaza in the NTC Promenade. The Best of San Diego event is expected to be one of the biggest celebrations of the year, with over 25 restaurants, 6 bands and a wide variety of other "Best of" winners for 2009.
San Diego Magazine is expecting over 1,500 attendees and a portion of the proceeds in ticket sales will go to the San Diego Police Foundation to help maintain a safe San Diego. Tickets are $35 for general admission or $50 for VIP's, who will receive gift bags and an exclusive VIP-only event section for the "BEST" food samplings, specialty drinks and entertainment.
Event partners include Viejas Entertainment and Productions, Sophie at 103.7, Ryot Entertainment and Golden Track Studios, Audi, San Diego County Credit Union, Westfield Corporation, Scripps Center for Executive Health, Sapphire Event Marketing, San Diego Restaurant Week, Se San Diego and US Foods Services.
Tickets can be purchased online at
www.bestofsandiego2009.com
or at the event. For more information, contact San Diego Magazine at 619-230-9292.