Antlers at Vail Hotel's Fall Foliage Lovers' Package: Sundays Free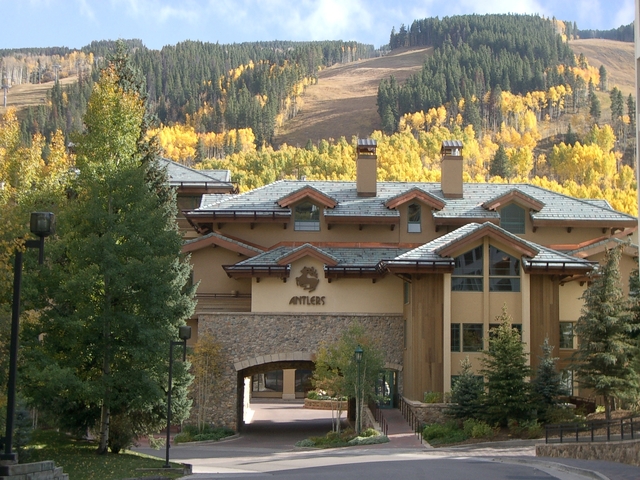 Vail, Colorado – August 25, 2009 – It happens for just a few fleeting weeks every year: the Rocky Mountains are blanketed in glorious gold as the region's famous aspen trees change color, making autumn one of the most spectacular seasons to explore the Colorado high country. Rob LeVine has been the general manager at the Antlers at Vail hotel for three decades, and guests often ask him about the best places to drive to see the gorgeous fall foliage.
"You can't beat what I call the 'Leadville loop,'" LeVine says. "You drive from here to Minturn, then take Highway 24 – a National Scenic Byway – to the old mining town of Leadville and follow it down through Copper Mountain. The drive takes about an hour and a half, the views are breathtaking and you're practically guaranteed to see some beautiful fall colors."
For people with a 4-wheel-drive vehicle who want to get off the beaten path, LeVine recommends the drive to Piney Lake. "It's about 12 miles from here; the area is remote and rarely crowded. You could drive a regular car up the dirt road in about 45 minutes, but it's pretty rugged and washboarded. In an off road vehicle, however, it'll only take you about 30 minutes."
Beat the weekend traffic with the "Autumn at the Antlers" getaway package, which offers free Sunday night lodging for leaf lovers who book two consecutive nights or more. Autumn is a wonderful time to experience the Vail Valley; summer crowds are gone, the days are sunny, the evenings are cool — and the values can't be beat. The Antlers autumn lodging deal is offered from August 28 through November 22, 2009.
Since 1972, the Antlers has offered a unique Vail lodging experience in a relaxed mountain setting. The Antlers Vail condominiums – recently named the 'Green Business of the Year' by the Vail Valley Partnership (
http://www.visitvailvalley.com
) Success Awards – is also proud to be a Green Star (
http://www.greenstarinc.org
) rated business. With condominiums ranging from studio suites up to four bedrooms and plenty of space to spread out, each room at the Antlers offers all the comforts of home including fully-equipped kitchens, fireplaces, outdoor balconies, free Internet access and free parking in a heated indoor garage. The Antlers Vail is conveniently located in the Lionshead area of Vail with numerous restaurants, galleries and shops within walking distance, and the free Vail town shuttle stops just footsteps away. For more information, call 1-800-843-8245 or visit the Antlers web site at
http://www.antlersvail.com
Email WordenGroup Public Relations