Health Care's Most Wired Honors LSS Data Systems' Customers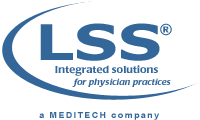 Eden Prairie, MN – September 4, 2009 – Eleven customers of LSS Data Systems (
www.lssdata.com
) were included in Hospitals & Health Networks (H&HN) 11th annual report for the Most Wired Hospitals and Health Systems. Among the nation's more than 1,300 hospitals and health systems, the winners were recognized for their exceptional use of information technology to address five key areas: safety and quality, customer service, business processes, workforce, and public health and safety.
Five LSS customers made the list of the top 100 Most Wired:
• Avera Health - Sioux Falls, SD (11 years on list)
• Citizens Memorial Hospital - Bolivar, MO (2 years on list)
• Inland Northwest Health Services - Spokane, WA (2 years on list)
• Poudre Valley Health System - Fort Collins, CO (6 years on list)
• Valley Health System - Ridgewood, NJ (8 years on list)
In addition to the 100 Most Wired, H&HN identifies the 25 Most Improved, the 25 Most Wireless and the 25 Most Wired-Small and Rural. The following LSS customers were ranked among the top 25 Most Wired-Small and Rural:
• Adena Regional Medical Center - Chillicothe, OH
• Bothwell Regional Health Center - Sedalia, MO
• Holy Family Memorial - Manitowoc, WI
• Sarah Bush Lincoln Health System - Mattoon, IL
• Unity Health Center - Shawnee, OK
• UWHP Watertown Regional Medical Center - Watertown, WI
Furthermore, Avera Health (Sioux Falls, SD) was also recognized among the top 25 Most Wireless.
LSS Data Systems congratulates these customers on their recognition and successful use of technology in health care. This prestigious accomplishment by these health care facilities and their implementation of LSS Data Systems' technologies continues to validate the successes of the healthcare information technologies and
electronic health records
(EHR) systems that LSS has been providing its clients. The benefits and efficiencies achieved from implementing newer health care related information technologies and electronic health records, such as those offered by LSS Data Systems, have allowed health care facilities to increase response times, lower administrative costs, improve efficiency and patient safety, lower the number of medical errors, and gives the organization the ability to share patient summary information with other facilities and departments outside of and within the patient's primary healthcare system.
With a recent national push for a broader implementation of electronic health records and information technologies within the health care industry, LSS is proud to demonstrate that many of its clients are already ahead of the curve. LSS Data Systems'
Medical and Practice Management
(MPM) Suite Client/Server 5.6 is a CCHIT Certified® 08
Ambulatory EHR
[additionally certified for Child Health] pending completion of advanced ePrescribing requirements. The 08 certification is the most current CCHIT certification level attainable by
ambulatory EHR vendors
and LSS Data Systems has now achieved certification for the third year in a row. For more information on the CCHIT
certified ambulatory EHR
that LSS offers please visit our website (
www.lssdata.com
) or call us at 952-941-1000.
The July H&HN cover story detailing results is available at
www.hhnmag.com.
For a complete list of winners
click here
.
About LSS Data Systems
LSS Data Systems, a
MEDITECH partner
founded in 1982, develops clinical, financial and administrative solutions for medical practice groups, healthcare delivery systems and clinics across the United States and internationally. LSS provides a full-featured ambulatory care solution, the Medical and Practice Management (MPM) Suite, for ambulatory health care organizations utilizing MEDITECH. The MPM Suite includes an ambulatory Electronic Health Record with prescribing/ordering, physician documentation, scanning, scheduling, and billing and financial management tools. For more information please visit
www.lssdata.com.