Artizara Launches It's Eid Collection September 8; Stays on Top of the Islamic Clothing Market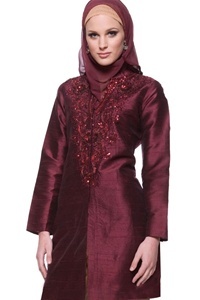 September 9, 2009 - Los Angeles – Artizara, a Muslim clothing company based in Alpine, Calif., has launched a new clothing collection. The Eid Collection, designed for the Islamic celebration of Eid but meant for special occasion wear long after the celebrations end, was the brainchild of Artizara founder, Sarah Ansari.
Eid means recurring happiness or festivity. Muslims wear special occasion "Eid clothes" to celebrate the holiday, and Ansari got the idea to create a festive yet contemporary Islamic fashion collection for Eid, inspired by the many different world cultures that the world's 1.2 billion Muslims represent.
"Eid is a holiday that celebrates our Islamic faith held dear, and our American way of life adopted with pride," Ansari said. "To me the word conjures up visions of palms painted red with henna, the aroma of 'sevvayian' simmering on the stovetop and the excitement of new Eid clothes donned before daybreak in the rush to Salatul Eid (Eid prayers). At Eid prayers here in the United States, you such an incredible diversity of cultures, and a display of the most beautiful and unique clothing from the far corners of the globe."
Artizara's Eid collection is an interpretation of that cultural symphony, an amalgamation of many influences; silks from China, exquisite hand embroidery and beading from India, and sterling silver artisan jewelry from Turkey and Egypt, melded with a design sensibility that is decidedly western; focused on versatility and superb value for money.
Popular clothing items worn for Eid include everything from traditional ethnic to western contemporary styles. Artizara Eid Fashions include full-length long dresses that are a cross between a traditional jilbab and a western long dresss, abayas, jacket and skirt sets, embellished long tunics over western style pants and long-sleeved blouses. Best of all, Artizara apparel is coordinated with matching "hijabs" or head scarves. There's no need to scour a store – Artizara provides both already!
Artizara apparel can be worn long past the holiday, too. Versatility and integration with mainstream fashion, was the original idea behind the online Islamic fashion house. It was founded in 2004 by Ansari and her friend and neighbor, Asra Razzaque, to find common ground among women of diverse backgrounds, and fulfill the Islamic and modest clothing needs of women who are socially conscious and active within their communities. Artizara has never looked back since, and has been written up in the New York Times and Washington Post, and even interviewed by NPR.
"The idea of starting a company to market products inspired by the rich artistic heritage of Islam, came to me one Ramadan morning as I lay in bed after Suhur (the pre-dawn meal)," Ansari reflected. "I was so excited I could not sleep! We would start with modest Islamic clothing and expand into home and holiday decor and all kinds of cool Eid gifts."
Artizara specializes in
Islamic clothing
, including long
tunic tops
, loose pants, modest formal wear, hijabs and accessories. Artizara fashions are coordinated with tops, bottoms and hijabs, to take the guesswork out of creating a "put together" look.
Artizara
Islamic jewelry
is handcrafted in sterling silver by artisans from Egypt, Turkey and Pakistan, following centuries' old jewelry making traditions.
Islamic Clothing and accessories like these are completely unique and not found at any other mainstream or Islamic stores, and best of all, everything is backed by a 30 day "no hassle" money back guarantee!
Order 24/7 by visiting Artizara.com, or call 1-866-ARTIZARA (USA 858-449-4810), from 9 am to 6 pm Monday through Saturday.