GameLayers Expands Social Gaming with Dictator Wars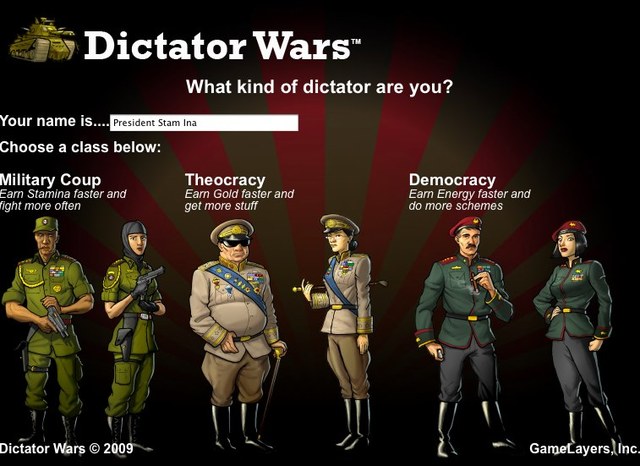 GameLayers, an online entertainment studio, today announced a new social game Dictator Wars playable through Facebook. Based on stories of tyrants and warlords that surround us in the news, Dictator Wars gives players a chance to run their own country and battle for recognition on a global scale.
Dictator Wars offers a wealth of content spread over 100 levels of Missions. Players can collect and do battle with weapons, staff, properties and luxury goods: atomic weapons, personal chefs, palaces and armored yachts. Players have a large playfield in Dictator Wars, in contrast to the small scale of Mafia games prevalent on Facebook. Dictator Wars is not about mugging and carjacking, but instead about arresting bloggers, acquiring uranium and relocating the national treasury into your home.
In addition, Dictator Wars launches with a unique "Foreign Affairs" system that increases the chances for people to play together online. "We saw tens of millions of gamers playing social games mostly by themselves," said Justin Hall, CEO of GameLayers. "With Foreign Affairs, Dictator Wars connects isolated gamers for a truly social role-playing experience on Facebook."
Dictator Wars is available for free play on Facebook at
http://apps.facebook.com/dictatorwars/
About GameLayers
GameLayers is a online game studio. Their first product, The Nethernet, was a massively multiplayer online game in a Firefox toolbar. Dictator Wars is their first game for Facebook. The company is funded by Shasta Ventures, O'Reilly AlphaTech Ventures, Richard Wolpert and Joi Ito. Their headquarters are in downtown San Francisco. For more information, please visit
http://gamelayers.com/