Jostens' rings part of new Naismith Memorial Basketball Hall of Fame display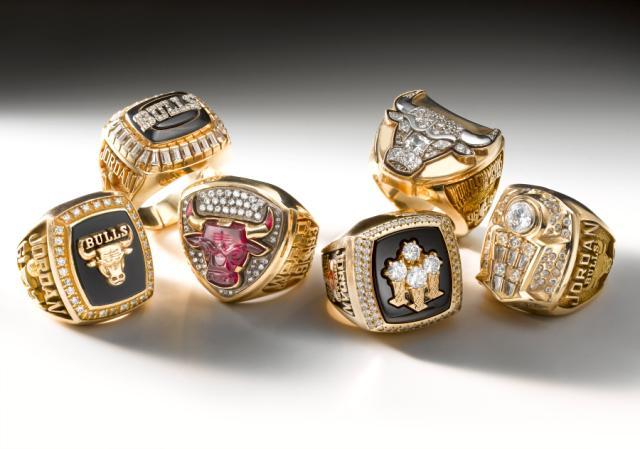 MINNEAPOLIS – September 17, 2009 – Six Chicago Bulls Championship rings, all exact replicas crafted by Jostens, are part of a display produced by Jordan Brand, a division of Nike, Inc., for a year-long run at The Naismith Memorial Basketball Hall of Fame in Springfield, Massachusetts. The display entitled, "Become Legendary: The story of Michael Jordan," recognizes a significant chapter in NBA history.
The Bulls won the NBA Championships in 1991, 1992, 1993, 1996, 1997, and 1998. With shapes and designs inspired by achievement, the coveted rings tell the story behind each NBA Championship season. Jostens' representatives worked closely with the Bulls' organization following each win, creating designs and ring prototypes until the final ring design was selected.
Jostens made its first championship ring for the Detroit Lions to recognize their 1952 NFL Championship win. Since then, professional, college and high school athletes have collaborated with Jostens to craft rings that reflect the unique story of their team and memorable season. In addition to the NBA, Jostens has worked with all professional sports leagues and delivered the historic sixth Super Bowl ring to the Pittsburgh Steelers, the 28th Super Bowl ring crafted by the company. Additional championship ring information can be found at
www.jostens.com.
About Jostens
Minneapolis-based Jostens is a provider of products, programs and services that help people celebrate important moments, recognize achievements and build affiliation. The Company's products include school yearbooks and other memory book products, scholastic products such as class rings and graduation products, and products for athletic champions and their fans. Jostens is a subsidiary of Visant Corporation, a marketing and publishing services enterprise servicing the school affinity, direct marketing, fragrance and cosmetics sampling and educational and trade publishing segments.
News Release
Contact information:
Rich Stoebe 952-830-3250
richard.stoebe@jostens.com