Mojave Interactive recognized for Outstanding Achievement in Web Development by the Web Marketing Association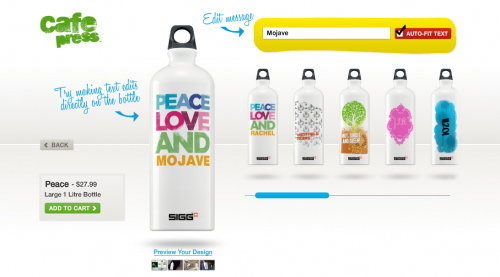 Mojave Interactive announced today that it has been honored with a WebAward for Outstanding Achievement in Web Development by the Web Marketing Association for its work on the CafePress SIGG Easy Designer (
http://www.cafepress.com/designer/sigg/
). The award recognizes the SIGG Easy Designer as an Outstanding Website, representative of the Web's most professional work.
The SIGG Easy Designer at CafePress lets consumers rehydrate in style with eco-friendly SIGG water bottles. Site visitors can personalize their own bottle with text and pictures using the SIGG Easy Designer. Users can also create unique gifts by customizing bottles with someone's name or a special message.
"CafePress is known for giving consumers the power to express their creativity with products that reflect who they are." said Robert Gourley, Creative Director at Mojave Interactive. "Mojave wanted to apply that same creativity and consumer-involvement to a great eco-friendly product. The SIGG Easy Designer lets people be creative, and gives them a compelling reason to stop using wasteful plastic bottles. A win-win in my book."
Since 1997, the Web Marketing Association's annual WebAward Competition has been setting the standard of excellence for Website development. Independent expert judges from around the world review sites in 96 industries. The best are recognized with a WebAward which helps interactive professionals promote themselves, their companies, and their best work to the outside world. The WebAward Competition is the premier award recognition program for Web developers and marketers worldwide.
About Mojave Interactive
Mojave, an interactive agency based in San Francisco, works with leading brands to create engaging experiences that go far beyond the banner. It was founded by Creative Director Robert Gourley and has created viral ad campaigns for such brands as Whole Foods Market, PerriconeMD, Blackhawk Network and CafePress. Mojave specializes in creating engaging advertising experiences that live across multiple media. Mojave develops interactive campaigns that inspire customers to become advocates, and uses social media to build community around brands. For more information, visit
http://www.mojaveinteractive.com
About CafePress
CafePress is the leader in User-Generated Commerce and offers sellers turnkey e-commerce services to independently create and sell a wide variety of products, and offers buyers unique merchandise across virtually every topic. Launched in 1999, CafePress has empowered individuals, organizations and businesses to create, buy and sell customized merchandise online using the company's unique print-on-demand and e-commerce services. Today, CafePress is a growing network of over 6.5 million members who have unleashed their creativity to transform their artwork and ideas into unique gifts and new revenue streams. For more information visit CafePress at
www.cafepress.com.
About the Web Marketing Association
The Web Marketing Association was founded in 1997 to help set a high standard for Internet marketing and development of the best websites on the World Wide Web. Staffed by volunteers, this organization is made up of Internet marketing, online advertising, PR, and top web site design professionals who share an interest in improving the quality of online advertising, internet marketing, and website promotion.