Teletrac Sets New Standard For Vehicle Fleet Management With Launch of Fleet Director® 7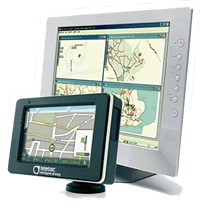 GARDEN GROVE, California — Teletrac (teletrac.net), a leading provider of intelligent driving and
vehicle tracking solutions
, today released the latest version of its award-winning fleet management vehicle tracking technology, Fleet Director 7. With this release, fleet managers gain dramatic advantages such as improved fuel savings, vehicle efficiency, driver productivity, loss prevention and, in many cases, lower insurance costs and higher satisfaction among fleet operators' customers. These and other advantages stem from the most fully integrated features offered in Teletrac's 20-year technology leadership—including GPS-based tracking, vehicle and driver monitoring, dynamic routing with real-time traffic data, advanced navigation and other powerful capabilities.
"With Fleet Director 7, we deliver the industry's most complete feature set," said Tony Eales, CEO, Teletrac. "While Fleet Director has won numerous awards, this latest release takes intelligent driving to a completely new level."
Fleet Director locates, tracks and monitors the position and operation of fleet vehicles, giving fleet managers unprecedented visibility into operations—delivering cost-saving efficiencies such as real-time
vehicle monitoring
and tracking of vehicles from the desktop, automatic route optimization and detailed reporting for advanced decision support and efficient regulatory compliance.
Fleet Director combines SmartNav(TM) satellite navigation, real-time traffic information, stolen vehicle tracking and comprehensive reporting tools used to monitor mileage, vehicle use and alert managers to unauthorized use and unsafe driving behavior.
The latest release, Fleet Director 7, extends core capabilities with Teletrac SmartNav "fastest route" real-time navigation, dynamic dispatch—managing workflow between dispatchers and drivers—at-a-glance "dashboard" report summaries with data drill-down, and more.
"Fastest route" with SmartNav
Teletrac's powerful SmartNav vehicle navigation software seamlessly integrates with Fleet Director GPS vehicle tracking to provide automated, turn-by-turn verbal driving directions. Drivers are guided along the most time-saving route while full-color displays map the route for clearest understanding.
SmartNav automatically finds the most fuel- and time-efficient routes using minute-by-minute traffic data to avoid tie-ups. If a driver goes off route by turning in the wrong direction or missing a turn, Fleet Director automatically revises directions to get the driver back on track.
Live traffic information also alerts dispatchers to potential delays so they can rearrange route priorities and coordinate vehicles on the fly. Mapping capabilities let dispatchers automatically identify the closest vehicle to a given location and identify the "fastest route" to the customer. Dispatchers simply enter a street address or an unlimited number of landmarked locations. Fleet Director forwards this information to a designated vehicle and, using Teletrac's archived two-way messaging, notifies its driver that a route has been loaded. Dispatchers can also apply this process to multiple vehicles, enabling them to converge on a destination.
Meanwhile, Fleet Director lets dispatchers view all vehicles within the map area plus crucial information such as speed, actual distance and estimated time of arrival—a substantial step forward in serving customers with accurate information for enhancing the service experience.
Integrated two-way messaging boosts productivity
In the Fleet Director 7
fleet management system
, Teletrac integrates the latest color touch screen technology with two-way messaging and voice prompted navigation. The result: communications with drivers become more efficient and effective than ever before. Drivers can instantly notify dispatchers regarding key information—including jobsite arrivals, departures, availability, breaks, start and end times, work order numbers, customer information and job details. All messages are automatically time- and date-stamped and archived for management record keeping and analysis.
Dynamic dispatch simplifies workforce management
Fleet Director 7 now integrates with third-party job ticket software products. This combination dramatically simplifies job ticket management and coordination between dispatchers and driver/technicians making site visits. New, unprecedented features include live traffic data and estimated time of arrival (ETA) integrated with job ticketing.
Driver/technicians receive job tickets and checklists customized to specific types of jobs. Companies can quickly and easily change these forms and rules-driven tasks as business needs evolve. Further, as events unfold, dispatchers can quickly rearrange the day's itinerary and job sequence for any individual or group of drivers. Fleet Director automatically serves up the right forms and tasks for the revised job sequence—a major advantage when managing a field workforce.
At-a-glance dashboards support decision making
Dispatchers and managers can view real-time information and summary data in Fleet Director's at-a-glance "dashboard" displays to support rapid, optimal decision making for most productive use of vehicles and drivers. These dashboards can drill down and include information customized to the needs of individual users. For more detailed information, Fleet Director integration automatically delivers scheduled reports via email—daily, weekly or monthly according to each recipient's needs and preferences.
Driver-level reports and scorecards—monitoring each driver, regardless of vehicle—give managers penetrating views of driver productivity and compliance, providing important clues for coaching, evaluating drivers, and also for improving operations. Available reports include fleet-level performance, catastrophic events, detailed stops and mileage, duration by driver, idle time by driver, speeding by driver, driver by vehicles, unsafe driver—plus vehicle-level reports ranging from idling to odometer readings.
Automated compliance lowers costs
Fleet Director's Hours Of Service (HOS) allows users to fully automate the entry, recording, completion and storage of all required information needed for logbooks —automating compliance from the cab. Time-consuming and error-prone manual logbook entries and manual audits can be eliminated. With Fleet Director 7, a total of eleven new reports are available, ensuring complete compliance.
About Fleet Director and Teletrac
Already proven and trusted by more than 6,000 fleets operating 90,000 vehicles, in the US alone, Fleet Director saves fleet owners time, money, and reduces their carbon footprint. Teletrac customers report up to 30% lower fuel usage, an average of 15% less driver overtime, 12% higher productivity and less unauthorized vehicle use.
Teletrac, Inc., headquartered in Garden Grove, CA. is a wholly owned subsidiary of UK-based Trafficmaster, Plc. For additional information, contact Teletrac at 1-817-323-1448, via e-mail at
lchiranky@teletrac.net
.