Core Systems to deliver the NCS-251 rugged computer to SPAWAR San Diego for the NAVSSI Block 4.2.2 Remote NCS program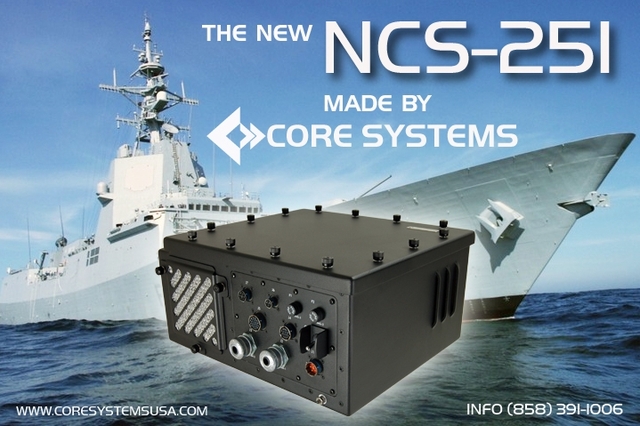 POWAY, Calif. – September 24, 2009 - Core Systems announced today the first delivery of the new NCS-251 rugged computer to SPAWAR Systems Center San Diego. The NCS-251 will be used by SPAWAR for naval shipboard system applications.
NAVSSI Block 4.2.2 Remote NCS- SPAWAR San Diego will use the current NCS-251 computers for their NAVSSI Block 4.2.2 Remote NCS program. The Navigation Sensor System Interface (NAVSSI) Block 4.2.2 Remote Navigation Control Subsystem (NCS) is a remote user console that allows control and selection of navigation sensors, display of navigation data from each shipboard sensor connected to NAVSSI, and displays system status and critical information needed for navigating the ship. It is located remotely at the bridge on a ship from each Real Time Subsystem (RTS) and is connected to a 100Base-FX fiber optic LAN port at each of two nearly identical RTS racks.
The Remote NCS equipment is designed to meet the environmental requirement for shock, vibration, and EMI/EMC of US Navy large surface ship classes (CG, DDG, CVN). It is part of a mission critical Navy navigation system. Military barge testing of the NAVSSI Block 4.2.2 Remote NCS will be completed in the coming months.
Remote NCS Configurations- The Remote NCS is composed of three pieces of equipment: Computer, Flat Panel Display (FPD), and Keyboard/Pointer Console. All pieces are separately mounted to a rigid pole mounting structure with specially designed brackets. The Computer, Pole Mounting Structure and modular brackets were developed by Core Systems. The brackets accommodate various mounting orientations and equipment positions on the pole mount at time of installation on the ship.
About Core Systems
Core Systems is the market leader in industrial computers, industrial displays, military and COTS rack mount solutions. Core Systems is focused on helping customers deploy systems in the most demanding and challenging environments. Visit
www.coresystemsusa.com
for more information.
Core Systems
13000 Danielson Suite Q
Poway CA 92064
(858) 391-1006