Wireless Cables, Inc. is pleased to announce the next-generation of BQB/ FCC certified Long-Range Bluetooth® Devices, the AIRcable Host XR2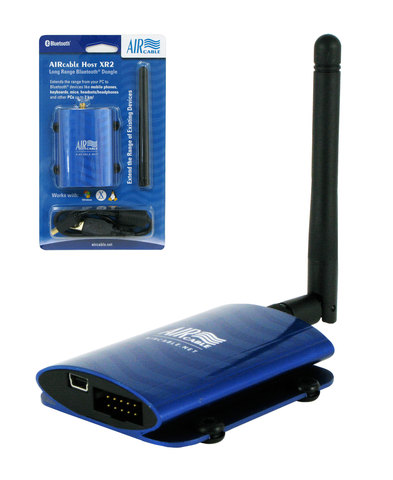 Santa Cruz, CA (PRLEAP) October 2, 2009 —Wireless Cables, Inc. is pleased to announce the next-generation of BQB/ FCC certified Long-Range Bluetooth® Devices, the AIRcable Host XR2.
Available for retail with its patented long range radio applications, easy set-up, and new sleek and rugged design, the Host XR2 extends the communication range between PC and Bluetooth® devices allowing for an extremely wide range of creative applications for both consumer and business entrepreneurs.
Sleek and More Rugged Design
The designers at Wireless Cables, Inc. have paid great attention to detail when making aesthetic improvements on the AIRcable Host XR2 , utilizing smooth, flowing lines that escape from the traditional box design. These flowing lines wrap around the new oval, aluminum case which by design, increases radio sensitivity by reducing interference. Additionally, the aluminum case is smaller and even more rugged which allows the Host XR2 to sit as easily on an executive's desk as it does on an industrial workstation. The designers have also created an optional magnetic base.
Extending the Wireless Range Between Devices
Using the 18 dBi directional antenna, the AIRcable Host XR2 can achieve an unparalleled PC-to-PC FCC certified range of up to 10 km. And given its long-range transmission and high sensitivity, the Host XR2 extends the PC-to-device range of weaker Bluetooth devices such as: mobile phones, headsets mice, and keyboards by factor 10, and more over other Bluetooth radios. Using two HostXR2 devices with our FCC certified 9dBi omni-directional antennas, the range is up to 2 km, or 200m to a cell phone. The Host XR2 is Bluetooth BQB certified.
Easy Setup
The AIRcable Host XR2 works seamlessly with Windows, Mac and Linux supporting virtually any Bluetooth profile available. Additionally, the Host XR2 easily attaches to any computer with a USB port. For the Host XR2 the USB port both establishes an instant connection for data transfer, and serves as the primary power supply (eliminating any need for an external power supply).
Creative Applications
Experience the freedom that the Host XR2 can provide with its multiple use, long range capability:
Utilize the freedom of movement using a head-set to walk around the house or office when talking on Skype.
Keep your iPOD stationary while sending music to stereo headphones.
Open up a new world for Bluetooth® Proximity Marketing.
Explore the greater freedom in applying longer range security devices.
AIRcable Host XR2 features and pricing:
- Bluetooth 2.0-compatible
- Standard mini-USB connector
- H2-compatible HCI interface
- Works with Windows, Linux, and OSX
- 1 km external antenna (included)
- Optional antennas: indoor rubber 9dBi, directional outdoor 18dBi, directional patch antenna for up to 10 km
- No external power needed
- Magnetic base (optional)
- Aluminum case for reduced interference and increased sensitivity
Price: $129.00
NEW FOR RESELLERS! The AIRcable Host XR2 is retail-ready by way of it's new retail-style packaging and registered bar code. Reseller inquiries please email
resellers@aircable.net
.
About Wireless Cables Inc.
Wireless Cables Inc., based in Santa Cruz, California, manufactures and sells long-range Bluetooth®-based wireless devices for communication with Mobile Phones, PDAs, PCs, and sensors under the brand name AIRcable™. Wireless Cables Inc. also makes Bluetooth-based hardware for various applications. Their three main markets are: cable replacement, wireless sensors, and the new cutting edge arena of proximity marketing.
Additional information on Wireless Cables Inc. can be found at
www.aircable.net.
Email Wireless Cables, Inc.